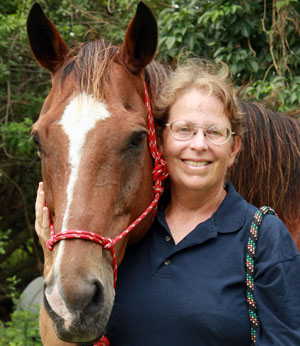 TALES FROM THE TRAILS
I can't help it — I'm addicted to used tack sales. The more stuff there is, the better I like them. Sometimes I actually have a shopping list of items I need, such as smaller or bigger halters, different bits, a new saddle pad. But mostly, it's the excitement of the hunt that draws me — the endless possibilities of whatever it is I might find.
A few Sundays ago, on Oct. 25, I attended one of the biggest and best used tack sales in the area: the annual Equestrian Flea Market held at Sunshine Meadows Equestrian Village west of Delray Beach. There were vendors galore selling everything under the sun.
Dianne "Sonni" Peles came up from Homestead to sell her refurbished tack. "I take in old, crunchy items that have seen better days, repair them and give them a new life," she said. "There's a good-sized crowd, nice people and helpful vendors. This is my first time here, and it's great. I'll definitely be back next year."
Stephanie Angus, another first-timer, drove up from Davie to sell equestrian-themed art, assorted tack and miniature horses. She heard about the sale on Facebook. "It's a really nice crowd," she said, showing off the minis: a young mare and two babies, 6 and 8 months old. "Next year I'll bring some normal-sized riding horses, too."
My friend and I noticed a few sets of stirrup leathers, which are always handy. If one breaks, you need a replacement. They were a steal at $1 a set.
Kathryn McCoy was a volunteer at the Vinceremos Therapeutic Riding Center booth. "We're lucky enough to have a lot of donated items," she explained. "People give us all sorts of tack, and if we can't use it, we sell it as a fundraiser."
My friend found a new set of reins for $2.
Golden Gait Riding Stable, located at the facility, offered horse and pony rides. "The kids like going around the field and enjoying the horses," Briana Hassibi said. "This year's sale is the biggest one we've ever had, with more than 100 vendors. In addition to the booths with items for sale, a lot of animal charities came out. I'm very happy seeing all the people having a good time and meeting other members of the horse community."
Many of the animal rescue groups had adoptable dogs and cats on hand.
Donald West from Delray Beach drove over to take a look.
"I was really happy to see all the dog and cat rescues," he said. "I really believe in working toward the goal of every rescue being a no-kill center."
Allison drove up from Fort Lauderdale and found some good deals: a sponge, paddock boots, odds and ends of horse stuff. "The prices are fine," she said. "I'll be back next year."
We pointed her toward a booth selling nice paddock boots for the unbeatable price of $1 a pair. She headed over. We had already gotten a pair, along with three pairs of new breeches, still with the tags on, for $25 total. We found some halters and bits, which were on our list, along with a fabulous Henri de Rivel saddle in terrific condition for $150. Yep, this was a good sale.
But we weren't done. One week later, on Nov. 1, we visited with John and Susan (aka the Saddle Diva) at their annual sale at their home in The Acreage. Obviously, this was a much smaller venue, but the vibes and offerings were all good.
"We're tired," Susan said as we perused the racks of reins and bins of boots. "It's a lot of work to clean everything, haul it out and arrange it. There aren't as many horse people out here as there used to be, not as much money in it like there was. The best part of our sales is the social aspect. It's a nice way to reconnect with members of the horse community. Everyone runs into old friends here."
Mirna De Carlo had been stopping at yard sales, so she came to see what she could find. "I don't have horses, but my neighbors do," she said.
She found a lovely painted side table.
Susan Marsh also stopped by. "I live in The Acreage and have three horses," she said. "I don't know what I'm looking for, but I love used tack sales. You never know what you'll find. You have to see and touch everything. You always need more horse stuff. Then you realize you have too much, so you sell some off, realize you shouldn't have sold it because you needed it, so then you gotta buy more."
"A lovely time was had by all," said Susan said afterward. "Sherry, a friend of a friend, stopped by. I hadn't seen her in three years, so we spent time catching up. Then Freddy, another friend, stopped by. He's into mounted shooting, and I'd put a nice holster away for him. I introduced them, and Sherry is going to watch Freddy's next mounted shooting practice. That's one of the best things about our sales, building links in chains of friendship."
Susan also donated part of her proceeds to the Red Barn's fund to help the seized animals at Palm Beach County Animal Care & Control.
"It wasn't as much as I'd hoped for," she said, "but every little bit helps."
If you missed these sales, don't worry. There are more good ones coming up. The Acreage Horseman's Association will have a tack sale and swap in the next few months, and Vinceremos will also hold another super sale. Then there's the Tackeria's famous Thanksgiving blowout sale coming up Nov. 27-29 — no used tack at this one, just great prices on everything in the store. And yes, I'll be at all of them, looking for bargains. I just can't help it.