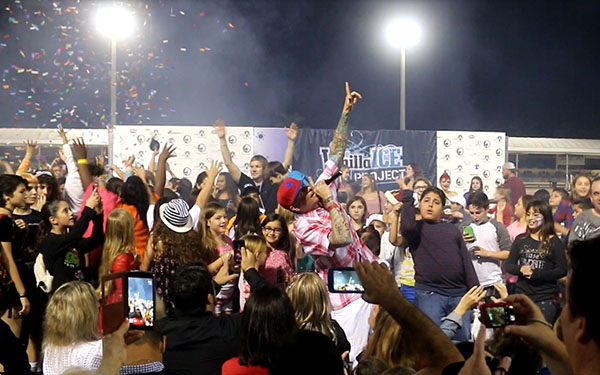 The Wellington Chamber of Commerce and host venue/presenting sponsor the Palm Beach International Equestrian Center are gearing up to present Winterfest 2015 on Saturday, Nov. 28.
Wellington Chamber of Commerce Executive Director Michela Green is anticipating a bigger and better Winterfest than in years past.
Palms West Hospital and the Children's Hospital at Palms West, Chukker.TV and the Grand Champions Polo Club will be sponsoring the Kids Winter Wonderland Village, Green said, which is sure to delight and entertain.
Local philanthropist, television star and music star Vanilla Ice, of the Emmy Award-nominated The Vanilla Ice Project, will once again be the featured headline performer.
After his performance last year, he remained on stage to take pictures with anyone who asked. Kids and adults alike sang along with Vanilla Ice as he took to the stage as a seasoned performer.
"Each year, he astounds us with his generosity and enthusiasm for this event," Green said. "He truly is an asset to Wellington and to Winterfest."
Wes Kain, a television personality also from The Vanilla Ice Project, will serve as the honorary master of ceremonies. Local talent such as Michaela Paige from The Voice, Nicky Greed, Alyssa Coon, Angeline Fontaine, Sarah Spiritual and others will take to the stage to entertain audiences, Green said.
The Royal Inn Hotel will serve as the title sponsor for the event that attracts more than 6,000 people from the local community, she said.
In addition to the carousel and other special activities at the Palm Beach International Equestrian Center, there will also be an ice skating rink on site from 5 to 9 p.m., and Santa will be visiting at the Kids Winter Wonderland Village.
Attendees will be treated to a special Grand Prix show jumping event, starting at 6:15 p.m., with Olympic-level riders competing for large prizes, said Vaneli Bojkova of Equestrian Sport Productions.
Also, 34 lucky charities will be selected at Winterfest to take part in the 2016 Great Charity Challenge, a pro-am equestrian competition benefiting Palm Beach County charities slated to take place Feb. 6. The Great Charity Challenge is accepting nonprofit applications through Nov. 13 at www.greatcharitychallenge.com.
A Food & Wine Tasting Expo, sponsored by Florida Interventional Pain Management, Pyra Promotions and the Wellness Experience, will feature unique treats from local eateries, such as the Binks Forest Golf Club, Hurricane Grill & Wings, Jordan's Steak Bistro, Ruth's Chris Steakhouse, Stonewood Grill & Tavern, the Art Cellar, Whole Foods Market Wellington and the Wild West Diner.
Bethesda Health is sponsoring the snow, and Self Discovery Life Ministry is the commemorative brochure sponsor. My Community Pharmacy is the photo booth and physicians reception sponsor. Media sponsors include Chukker.TV, Talk4Media, Wellington The Magazine, the Town-Crier and LocalDines.com. Cravy is the red carpet sponsor. Palmbeachsports.com and Bethesda Health are also sponsors of Winterfest 2015.
Parking and admission are free, and gates open at 5 p.m. Special VIP Stage Seating and International Club Prime Seating are available, offering spectacular views of the performances. To reserve VIP Stage Seating, call the chamber at (561) 792-6525. For International Club Prime Seating, e-mail kathleen@equestriansport.com. For more information, visit www.wellingtonchamber.com.
ABOVE: Entertainer Vanilla Ice sings on stage with local kids at last year's Wellington Winterfest.