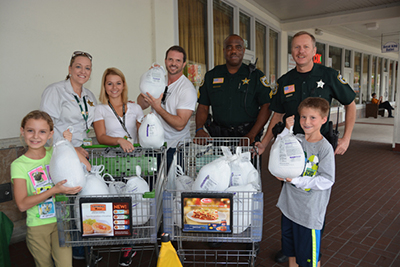 In addition to looking out for the safety and security of residents, the Palm Beach County Sheriff's Office is working hard to collect food for those in need — and the public is invited to help out by taking part in a turkey drive on Saturday, Nov. 21.
For the fifth consecutive year, the PBSO has partnered with many local schools for a unified food drive.
"Each participating school, through a healthy competition, gathers nonperishable food items from its students and faculty, and we collect them on Friday, Nov. 20," PBSO District 9 Community Outreach Coordinator Diane Smith explained.
The food items are collected over a one-month period. Participating schools are: Crestwood Middle School, Cypress Trails Elementary School, Glades Day School, Golden Grove Elementary School, H.L. Johnson Elementary School, Ideal Elementary School/Dream Middle School, Independence Middle School, Jerry Thomas Elementary School, the Learning Foundation, Limestone Creek Elementary School, Northmore Elementary School, the Renaissance Charter School at Palms West, Royal Palm Beach Elementary School, Royal Palm Beach High School and Western Academy Charter School.
Last year, the united food drive collected 13,896 food items. This year, organizers hope for more. The school that collects the most items has its name put on a trophy, which gives the school bragging rights.
Each school, Smith said, receives up to 20 complete Thanksgiving meals for its students and families in need.
Within the community, in addition to the food drive, this is the fifth year that the PBSO, Publix, County Ice, Sunny 107.9 and 97.9 WRMF have partnered for the turkey drive.
On Saturday, Nov. 21, from 9 a.m. to 1 p.m., at three Publix locations, the PBSO and WRMF's KVJ Show stars — Kevin, Virginia and Jason — will be collecting turkeys.
Participating Publix locations are the Crossroads at Royal Palm Beach Publix (1800 Royal Palm Beach Blvd.), the Marisol Walk Publix (6251 PGA Blvd., Palm Beach Gardens) and the Lantana Plaza Publix (5970 S. Jog Road, Lake Worth).
The first 100 people to donate a turkey at each Publix will receive a free Publix pie.
Kevin from the KVJ Show will be at the Royal Palm Beach location, while Virginia will be at the Marisol location, and Jason will be in Lantana.
"The fans have a great time helping their No. 1 DJ get the most turkeys," Smith said.
The DJs call in, provide updates and have a great time competing to collect the most turkeys.
"You can feed a whole family for $10. You can have a 15- or 20-pound turkey for $10, which is amazing," Smith said. "When people go into Publix on Saturday morning to get their Publix turkey for Thanksgiving, they get an extra one and donate it to our turkey drive."
The turkeys are then combined with the food items from the unified food drive to create holiday meals for those who might otherwise have gone without. Publix has donated 500 bags for the donated food to go into.
All of the food, Smith said, goes to local people in need. Local civic organizations, churches and areas that deputies identify as places in need receive any of the extras.
Last year, 490 turkeys were donated at the three Publix locations, in addition to a 10-turkey donation.
"We had 500 meals last year, plus we stocked four separate food pantries with leftover food," Smith said.
Usually people empty out their pantries and hurricane reserves during food drives, she explained, so they often have non-Thanksgiving foods provided.
County Ice, she added, is integral for the turkey drive. Their coolers hold the turkeys in between the collection and distribution time.
"Everyone can help a family in need for $10," Smith said. "If they don't want to buy the turkey and go in, they can give us the $10, and we'll get the turkey for them."
For anyone with food items to donate, donations can be dropped off at Royal Palm Beach Village Hall, the Royal Palm Beach Cultural Center or the PBSO District 9 Substation between now and Thanksgiving.
"I can always find someone who needs the food, even if I take it to a local pantry," Smith said. "I always take food."
The District 9 Substation is located at 11498 Okeechobee Blvd. in Royal Palm Beach. Call (561) 790-5180 for more info.
ABOVE: Last year's turkey drive at the Publix in Royal Palm Beach.