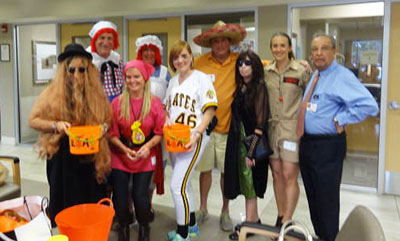 The Wellington Rotary Club continued its hands-on community service projects Oct. 30 when members of the club attended a Halloween trick-or-treat party for the young patients at the Children's Hospital at Palms West.
Club members visited the rooms and greeted children and parents with toys, candy, ice cream and other treats.
Special thanks to the Royal Palm Beach/Wellington Chick-Fil-A restaurants, which donated gift cards to support the club's efforts.
The children and their family members enjoyed the visit and gifts given. The event was organized by Community Outreach Chair Maggie Zeller.
For more information about the Wellington Rotary Club or information about becoming a member, contact Don Gross (561) 723-8461 or dfg144@bellsouth.net.
ABOVE: Rotarians visited the hospital in their Halloween costumes.