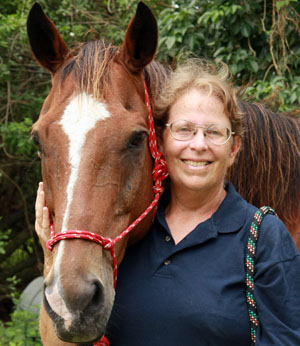 TALES FROM THE TRAILS
Mention Loxahatchee Groves, and most people conjure up images of dusty unpaved roads, horses, nurseries and… an art gallery?
Tucked away on two-and-a-half rustically landscaped acres at 14281 Collecting Canal Road, between D Road and E Road, is Gisela Pferdekamper's art gallery. She recently held a gift show and sale there on Sunday, Nov. 15.
"We had a lovely time," Gisela said. "About 40 people showed up. We sold a few pieces."
The gallery used to be a barn, and now houses the large gallery room along with a back room that serves as Gisela's studio. She paints, sculpts and works in clay and ceramics. She is perhaps best known for her "fat mare" paintings, which always have a comic aspect, but also makes ceramic bowls, statues and figurines, tagines and decorative tiles. I'm a big fan of her work and couldn't resist buying a colorful rooster sculpture, along with a white ceramic tile featuring a horse in extended trot.
Gisela's vision is to have a real art gallery, open year-round, where people are welcome to drop by and see quality artwork and handmade jewelry. She currently displays works by a number of local and nationally recognized artists.
Gisela met Angel Rhoades last year and asked her to invite some of her clients to exhibit. President of Angels International, Angel has a large network of clients, experts and professionals throughout the art world. An expert in the field, Angel has worked with rare master works of art, collections of all magnitudes, and true living master artists of our era.
Canadian David Lloyd Glover has shown his Impressionistic landscapes in major galleries all over the world. You can feel his love of natural settings and elegant gardens in the richly colored oil paintings. He's also created a series of "Icons of American Pop Culture" for a Beverly Hills gallery, which includes portraits of Mick Jagger, John Lennon, Elvis and John Wayne.
Michael Mitcalf creates really interesting pieces using recycled material. His works always include unusual three-dimensional aspects, and his sculptures make you smile. There are parts of violins attached to canvases, and a duck on a skateboard. "His work is very interesting to look at," Gisela said. "There's a lot of interesting details, strangely put together."
Melinda Moore lives in Palm Beach Gardens but has spent much of her life traveling and living abroad, her camera her constant companion. She enjoys adding personal, slightly surreal alternative techniques, using texture montage and composite. Melinda has received many awards, and her works are exhibited in universities and museums, and are in numerous private collections. I admired her collection of prints featuring birds in natural settings, manipulated to look like paintings, and found them truly exceptional. The next time I visit, I'm going to buy a few.
I also enjoyed Rollin McGrail's colorful and amusing drawings, including the poster for the 2014 Central Park Horse Show. A local artist who lives in Wellington, her work is instantly recognizable. Her style is agile, playful, formal and wry. She has shown in galleries from Paris to New York, not to mention West Palm Beach and Wellington. Rollin has had weekly illustrations for years in The New York Times and The Washington Post, and has made frequent contributions to Vanity Fair, Newsweek, Forbes, U.S. News & World Report, Glamour, Esquire, GQ, Vogue and more. Prints and books of her works are available. "She has a good sense of humor," Gisela said.
Other exhibitors include Emma and Jose Rojas, both of whom create lovely handmade jewelry; Jackie Harris, who makes whimsical horse sculptures; and Betty Wilson, who creates natural Florida-themed watercolors and interesting glass mobiles of faces and dolphins. "She melts glass in her kiln," Gisela explained.
And, naturally, there are also Gisela's offerings, including life-sized fiberglass horses, which can be painted to reflect any theme.
"My goal is to have an interesting gallery offering a wide array of different kinds of works," Gisela said. "We have something for everyone. It's a great place to find a unique gift, and prices start as low as $20 for small pieces. A lot of it is horse-themed, and all of it is interesting to look at. You'll see the same quality as you would at a big New York City gallery. We have pieces for all tastes and budgets."
Gisela's unique art gallery is open to the public every day of the week. To make an appointment to browse through, call her at (561) 422-3037.