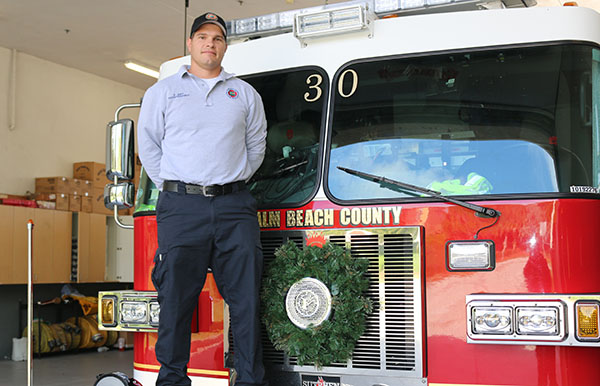 When others call for help, firefighters such as Palm Beach County Fire-Rescue's Eric Aho are there to provide lifesaving assistance. Aho, who was named Wellington's Top Firefighter for 2015, loves his chosen career.
"I wanted a dynamic career that was constantly changing. I enjoy working with people, and I also wanted to do something that was an impact to me as well as other people," Aho said.
He has spent the past eight years serving the community, first in the West Palm Beach area, then Lake Worth and Manalapan, and now, Wellington.
He floated from station to station as needed before settling in for the last three years at PBCFR Station 30, located on Stribling Road off State Road 7.
Battalion District Chief Ken Sehres nominated Aho for the village's annual honor due to his hard work and dedication.
"He has proven himself again and again to be a firefighter with a heart for his community," Sehres said. "He is a committed and impassioned member of our department who serves the public with his knowledge, skill and caring. What is sometimes not so obvious is his attention to non-emergency duties, sacrifice for others, volunteerism, and deep love for his family."
In a career where 24-hour shifts are normal, being recognized as Wellington's Top Firefighter is something that Aho is proud to have his young children, one 8 years old and one almost 5, be aware of.
"It makes me feel good about myself, and my kids see that people are paying attention, and what I'm doing is actually really good for other people," he said. "Sometimes we miss family events and holidays; but somebody's got to do it."
Six fire-rescue teams serve the Wellington area at PBCFR stations 21, 25, 27, 28, 29 and 30 — helping to keep the community safe and responding at a moment's notice.
"You go to a person on their worst day and you're actually trying to make sense of it, make sense of the chaos that's ensuing, or hold someone's hand and make them feel better," Aho said.
Recently, he was there on what could have been the worst day of a neighbor's life. Her elderly mother was choking, and Aho was able to help her.
"Knowing that I was able to assist them in that time, and that my children get to know that their dad is out there to help other people, especially people that they care about, is extremely important," he said.
Some of his best experiences come from working with his fellow crew members.
While Aho floated, he was able to experience how other teams worked together.
"You get to meet a lot of different people and their different attitudes," he said. "Working with different crews, different personalities, makes you really in tune to the brotherhood that the fire department actually is. For me, that's one of the most worthwhile experiences working with different groups."
Aho was initially thrown for a loop by his recent honor.
"It took me by surprise," he said. "It gives you a sense of self-worth knowing that you are making a difference and that your peers see that you are making a difference."
Serving others in the community, and always being there to lend a helping hand, drives him.
"I don't typically talk about myself, so this has been a humbling experience," Aho said. "I'm just happy to be able to serve Palm Beach County and Wellington, and for them to know that, taking notice of me… I'm very honored, and I appreciate it."
ABOVE: Station 30's Eric Aho was recently named Wellington's Top Firefighter for 2015.