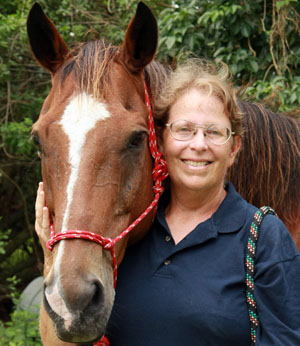 TALES FROM THE TRAILS
On Saturday, Dec. 5, the weather might have put a damper on many weekend plans, but at the Vinceremos Therapeutic Riding Center in Loxahatchee Groves, the rain was barely acknowledged. Under Vinceremos' sheltering covered arena, the annual holiday horse show went off without a hitch.
The parking lot was absolutely jam-packed. The arena had been divided in two. The western half held a variety of obstacles for riders and horses to traverse, while the eastern half offered game booths for everyone to play. The show's theme was "Candy Land," and Deb Levinsky, the show's organizer, was thrilled.
"We're off to a great start," Deb said. "The rain hasn't stopped us at all. Our goal was to create an event where our riders could show off all they've learned and achieved for their friends and families. The whole thing is family-friendly. We have lots of games and activities for non-riding siblings."
Planning for the fun event got underway back in May.
"A lot of people helped and donated time and materials," Deb said. "It's a real coming-together of a large community. The Wellington High School DECA students partnered with us. They were out here last month helping paint and create the candy decorations, and 25 of them are here today helping out, along with 35 of our Vinceremos volunteers."
Many area businesses also helped out. "Home Depot donated paint, we found a lot of materials at Resource Depot, Walgreens donated candy, and we received a very generous check from Joe Rosenberg at Coldwell Banker," Deb said. "This has been a real community effort, and a win-win for everyone."
The game booths included "feed the horse" (throw a plastic apple through the wooden cutout of a horse with an open mouth), "catch a duck" (plastic ducks bobbing in a kiddy pool), "cake ring toss," "pin the gumball" and "candy surprise." The craft tables offered coloring, ornament making and tattoos.
The horses sported colorful ribbons in their manes and tails as riders maneuvered the Candy Land course: weaving through the lollipop poles, stepping over the Hershey's Kisses ground poles, dragging a peppermint stick through candy lane, walking a figure-8 around inflated donuts, riding the rainbow bridge over the fudge river, depositing a bag of popcorn into an oversized popcorn container, circling the gingerbread house, and trotting between the Tootsie Roll poles. After that, riders completed an equitation class, riding around the perimeter.
Peggy Davino watched her son, Charlie, complete the course, beaming with pride. "This is our second year doing the holiday show," she said. "His confidence is so much better this year, and his riding ability is amazing. He has changed 180 degrees since we started coming out two years ago."
Vinceremos has given Charlie a place to shine.
"Charlie has autism, and he was angry at many things, especially because he couldn't play sports with other boys," Peggy said. "But this is a sport he's good at. He learned that he couldn't be angry around the horses. Coming here has helped him in many ways. He will be 11 on Christmas Eve, and out here he's a normal kid. This is a wonderful program."
Executive Director Ruth Menor announced each horse and rider combo as they entered the arena. "This is a great day," she said. "It's so much fun seeing all the riders and families here together. They don't always see each other, coming just on their riding day, but this gives them a chance to visit and watch each other and share the spotlight. I love the fellowship of it all. It's a great community collaboration."
Lauren Bordeaux, 16, was there helping out. She is a sophomore in Wellington High School's DECA program and has been a Vinceremos volunteer for four years.
"For our annual competition project, we decided to get involved in the holiday horse show," she explained. "DECA members worked on props and decorations and helped out in all sorts of ways. Twenty of us are here today, helping out. We'll write a 30-page paper detailing all of it for the competition. I've volunteered at the Special Olympics, but this is my first time at the holiday horse show. It's a great way for riders to watch and support each other and make friends. I'm out here almost every day after school. I love being here so much."
A fire truck from Station 21 was also pulled up under an edge of the overhang.
"We love doing public events like this, connecting with the community," Capt. Mike Owens explained. "The kids are welcome to climb on the truck, examine the gear, sit in the front seat. We get a charge out of it. Vinceremos does a lot of good, and we're glad to help support them."
Girl Scout Troop 20178 showed up with five volunteers. Co-leaders and moms Jill Sorensen and Helen Archer watched.
"This whole event and organization is wonderful," Helen said. "This is our first year helping out. We'll definitely be coming back."
"I'm amazed at the opportunities they give to the clients," Jill added. "The smiles on everyone's faces are priceless. My daughter wants to volunteer here next year when she's old enough."
Just then, Megan, Jill's daughter, dashed over from her spot helping with the popcorn post of the trail class. "This is awesome!" she exclaimed. "Everyone's having so much fun. I love horses and helping people. I'm volunteering here this summer, about a minute after I turn 12."
"We can always use more volunteers, especially adults," Volunteer Coordinator Deb Rasmussen said. "We give 95 lessons a week, Monday through Saturday. There's enough work for everyone: horse leaders, side walkers, general horse care. Give us a call."
To volunteer, or for more information, call (561) 792-9900 or visit www.vinceremos.org.