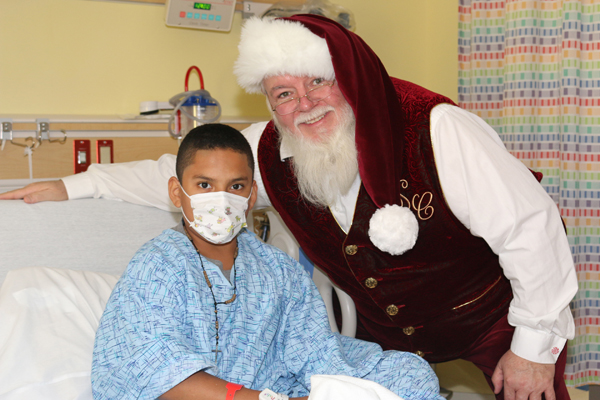 Santa Claus joined Wellington Village Council members and officials from the Palm Beach County Sheriff's Office and Palm Beach County Fire-Rescue, and others, for a visit to Palms West Hospital on Monday to spread holiday cheer to patients with toys from the Hometown Holiday Toy Drive.
Later in the day, the doors opened at St. Peter's United Methodist Church, allowing families the ability to make Christmas brighter for their children.
Councilman Matt Willhite was thrilled to be part of the group delivering toys to children in the hospital. One little boy, he explained, was excited because he thought that Santa would forget him since he was in the hospital.
Another boy brought tears to everyone's eyes when he would not accept his gift, just happy for the opportunity to read his letter to Santa.
"He wanted Santa to give the toy to a kid who would be able to enjoy it either before Christmas or after, because he didn't think he was going to be able to make it to Christmas," Willhite said.
The children, parents and hospital employees were overjoyed by the visit from Santa.
"The hospital is amazing every year," Wellington Senior Services Specialist Meridith Tuckwood said. "It is the gift that, as they say, is priceless — truly priceless."
Tuckwood enjoys watching the children light up when they see Santa. "When we think about what is happening in our lives, we need to take a moment and think of all of the things to be thankful for," she said.
Tuckwood works tirelessly to help those in need.
"I'm grateful for the community that we live in. We are truly blessed. We have people who are consistently giving and always going out of their way to do something for someone else," she said. "For that, we're blessed."
Most people, Tuckwood explained, do not know what it feels like to not know whether they'll have food on the table. But the village's recent food drive brought in enough to feed more than 150 families, and provided the opportunity to share 467 pounds of food with two nonprofit organizations.
"We have been able to take care of 157 families, to the tune of about 340 children in our community," she said. "I just want to thank everyone for all that they've done and continue to do. Thank you for supporting this each and every year."
Supporting the community year-round is important, and shouldn't only be done during the holiday season, Tuckwood emphasized.
As the sun set, people started lining up outside of the church, ready to pick their toys.
Each family was able to choose two toys per child, and anything left over was slated for donation to Palms West Hospital and various charities.
"We are giving to Wellington, then we're going to go outside to help everybody," Willhite said. "It's such a special day and event that our village staff, interfaith churches, community leaders or members can come together and support members of our community who are in need… It's the small things that we can do to try and help them and make something special for these kids."
Embraced by the community, Wellington resident Linda Hotujec has been personally helped by the programs that Wellington offers, such as the toy drive and the food drive.
"This has touched the hearts of me, my children and my entire family," Hotujec said. "For the past two years, the community here in Wellington, the Village of Wellington, the police officers and the entire community have made the past two Christmases amazing for my children."
Hotujec recently finished her schooling and passed the state board to become a registered nurse.
"My goal for 2016 is to pay it forward tenfold. Anything I can do to volunteer and help another family experience what I did, would be a gift in itself," she said. "It means so much."
For Pastor Emily Denmark McGee, whose church hosted the toy pickup, helping others falls into line with the church's goals.
"It feels great. It makes it feel like Christmas. I'm uplifted that this many people would donate, give their time to be here and share the joy this season," McGee said, stressing the collaborative effort that the program requires.
Children are ushered outside, or to the side of the auditorium, so that parents are able to surprise them on Christmas morning. Its uplifting, inspirational and heartwarming to see the relief on the parents' faces, McGee explained.
As parents milled about and brought their toys over for wrapping, Willhite nodded in the direction of Tuckwood to hold a resident's baby while they searched for the perfect gifts.
"I'm very proud of Meridith Tuckwood and all the work that she has done," he said. "She brings this community together with the work she does. She knows these people personally, and they know her personally."
The entire program says a great deal about Wellington, Willhite said.
"I'm so proud of Wellington and how we come together to make sure that our community is a great hometown," he said. "This is what helps make it that."