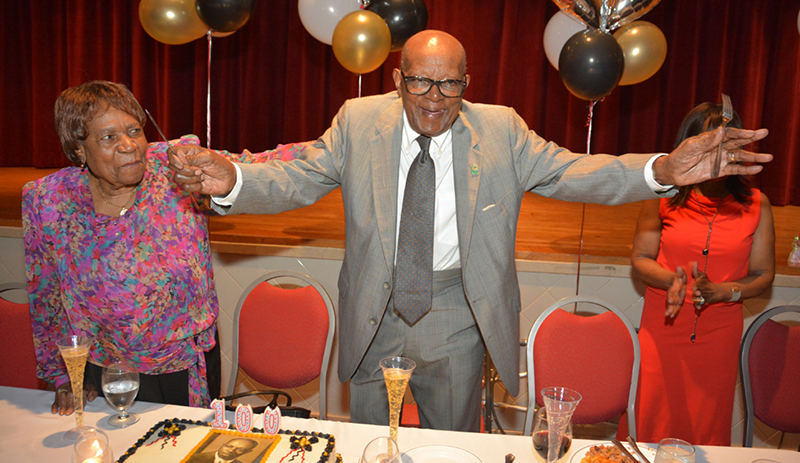 Kenneth McKenzie celebrated his 100th birthday on Saturday, Jan. 2 at the Royal Palm Beach Cultural Center joined by approximately 75 friends and family members.
McKenzie, born in Jamaica on Dec. 3, 1915, has seen many things change in the last 100 years. He's one of six children, and has a 92-year-old brother who is still alive. McKenzie himself has five children, including eldest daughter Thelma Sparks, 75, who traveled in from London for the party, eight grandchildren and five great-grandchildren.
McKenzie moved to New York in the 1940s. "I came on a government contract during the war," he explained, noting that he lived in New York until he moved to Florida in 1985.
The party, a gathering of friends and family members of all ages, was memorable and important for McKenzie. "It was wonderful. He had all of his friends here, which he made in the 1980s when he came down," Sparks said.
A CAFCI member, McKenzie was also one of the group's charter members from 1989. The local nonprofit started out as a social group.
"It was a social thing, where they met once a month," Sparks said. "They'd meet in each other's houses and have drinks, nibbles, a bunch of nice food and play games, and they've kept in touch as a result of that."
CAFCI has been a big part of her father's social life in Florida, she explained.
Many members of McKenzie's family were able to attend the party. "It felt good," Sparks said. "We were surprised because of their age, we didn't think everyone could make it. It was very special."
McKenzie even danced during the party, where he received a letter from President Barack Obama and Florida Gov. Rick Scott.
"I was surprised. I was very happy and enjoyed myself immensely," he said.
Partygoers enjoyed a rich and delicious West Indian cake. Videos of McKenzie enjoying music and dancing in his wheelchair were played, and buffet dinner was catered by "Chef G" Lloyd Grant.
McKenzie and his wife Hazel, 89, are looking forward to more adventures in the new year.