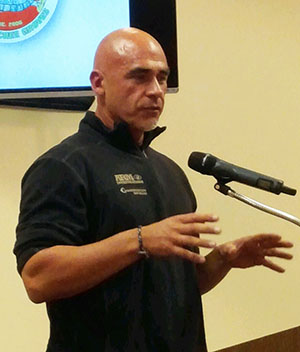 Richard Couto, founder of the nonprofit Animal Recovery Mission (ARM), spoke to the Loxahatchee Groves Town Council on Tuesday about ARM's investigations into illegal animal slaughter operations in Loxahatchee Groves.
ARM was involved in the October bust of three slaughterhouses in Loxahatchee Groves, in cooperation with the Palm Beach County Sheriff's Office. The operation was reported to have been one of the biggest animal cruelty cases in U.S. history.
Couto said ARM was invited to speak at a meeting shortly after the raids took place at the slaughterhouses, but it was too soon to give a complete report.
"It was so quick after our raid, we had about 350 animals and I was undercover," he said. "We are an international investigative group, so I wasn't able to be at that meeting. I'm glad I'm here now."
He said that there are several other ongoing cases.
"I think three of the cases have been pleaded out, unfortunately," Couto said. "We still have five to six active cases, so there is only so much that I can talk about today."
Couto said that ARM is still in court proceedings with the Rancho Garcia case, where the owners are charged with the illegal slaughter and sale of horse meat.
"What I want everyone to understand is, ARM didn't come upon this issue in Palm Beach County by accident," he said. "We were called anonymously, by e-mail, and asked to come investigate this slaughter facility for some time. It's just that we are a very small nonprofit organization, and we didn't have the financial resources or the manpower to get into your county and start investigating. We did that roughly eight months ago. Once we got here, we started to make friends and make relationships as we always do with our undercover investigative operations. Very quickly we saw a serious issue in your county."
Couto noted that ARM is investigating illegal slaughterhouses throughout the state.
"Right now, we are guesstimating that there are at least 500 of these farms," Couto said. "We just closed and struck an operation with our strike force in Miami two weeks ago. We have shut down about 137 of these operations within the state, but they are literally from the Keys to Ocala. That's how far north we are going."
Palm Beach County has other illegal slaughterhouses under ongoing investigations in or near Loxahatchee Groves.
"It is not a town or county issue," Couto said. "It is a state enforcement issue. The State of Florida really just bypasses this issue, which is why a large illegal slaughter industry has sprung up, and the primary commodity in these farms always, every single farm we investigate, is horsemeat."
ARM investigators are currently monitoring horsemeat in five different counties, and prices range between $7 and $40 per pound for foals taken from a live pregnant mare, he said.
"We're looking at some really extreme issues here," Couto said, explaining that ARM investigates animal cruelty issues throughout the world that no one else will, whether it be because of danger to the investigator, the illegal nature of the issue, the violent nature of the people torturing the animals or the expense.
"The issues we found in 2015 in Palm Beach County for sure were some of the worst crimes toward animals in the United States," he said. "I know a lot of other organizations. I know just about every undercover investigator with those organizations and law enforcement, and no one has come close to at least filming the abuse that we have found in Palm Beach County."
Couto said the good thing for this county is that law enforcement has been supportive.
"Many times we go into a new county or a new state or country and show them our evidence once our investigation is complete, and the door is slammed in our face," he said. "It takes months and months to gain the cooperation, and at times we have to do that through the press, almost through humiliation tactics. In your county, we had support right away. The Palm Beach County Sheriff's Office, especially now that these three farms have been closed, they're looking for more. They're asking us for more evidence."
ARM relies on anonymous tips from the community to initiate investigations, he said, explaining that ARM has a web site, www.animalrecoverymission.org, where it accepts anonymous e-mails.
"If there are people who know of issues, let's say there's something going on next door to you, fences are high, you're hearing a lot of animal screams, your suspicion is pretty high, send us an anonymous e-mail through our web site. Everything is always anonymous with ARM. Never in the history of ARM have identities of people giving information to our investigators gone public. It's very serious with us, and we've taken a lot of precaution. We're stacked with people giving us information leading to future investigations."
Although no cases have been uncovered in Palm Beach County yet, one of the serious issues ARM investigates is trespassers butchering live horses in their stalls. To give immediate protection to animals in the community, Couto recommends proper lighting at barns, and keeping a dog that will bark at intruders.
"The number one deterrent is a barking dog," he said. "Put a barking dog in your barn. These guys are going to infiltrate your property, and hearing that dog and knowing that he's not going to stop barking, they're going to turn around, hightail it out of there. It's a real cheap security. It doesn't have to be an attack dog, and it doesn't have to be a trained guard dog. It has to be a yappy dog."
ABOVE: Richard Couto, founder of the nonprofit Animal Recovery Mission (ARM), discusses illegal animal slaughter operations at Tuesday's Loxahatchee Groves Town Council meeting.