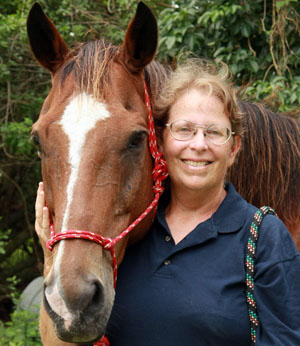 TALES FROM THE TRAILS
Many of us know a fair amount about keeping and riding horses, but many of us are also woefully ignorant when it comes to knowledge of horses and the law. Krysia Nelson is eager to help erase that deficit. As she did back in 2012, she's offering an eight-week course called "Equine Law 101: Business Essentials for Horsemen" this winter in Wellington.
Nelson is an attorney, licensed in both Virginia and Florida, who has practiced equine law for 20 years and knows the ins and outs of the horse industry. She has represented leading horse owners, trainers, riders, breeders, equestrian facilities, major farms, clubs and associations. She has frequently defended the competition privileges of both professional and amateur riders before the USEF and FEI.
Nelson grew up riding with the Caristo family at their Glenview Stables, and during law school rode for Olympic veteran Michael Matz. She still competes regularly on the A circuit in the amateur hunter division. She trains with Olympic veteran Lisa Jacquin and plans to compete at this year's Winter Equestrian Festival with her horses, Catbird and Cobham Park.
"These classes are geared for the lay person, anyone who owns or works with horses," Nelson said of the eight-week Equine Law 101 program. "It's not at all technical, but it's very informative. There's a lot of laws dealing with the equine industry that even lawyers don't know."
The eight sessions take place on Monday afternoons from 4 to 6 p.m., at #1 Education Place in the original Wellington Mall (12794 W. Forest Hill Blvd., Suite 23). The first introductory session was held Monday, Jan. 18, but each upcoming class will cover a variety of topics and is designed to stand alone. Participants can sit in on all of the rest or just the ones that are of particular interest.
The rest of the sessions are as follows: Jan. 25, injury to animals, measure of damages and veterinary malpractice; Feb. 1, liability for injuries caused by horses; Feb. 8, insurance; Feb. 15, industry regulation; Feb. 22, sales, leases and contracts; Feb. 29, business formation and immigration issues; and March 7, taxation, wills and trusts.
"Under the law, animals are property," Nelson explained. "We who love them think they should be considered more personally, but that's not how it works. If a horse gets hit by a car, for example, the owner is probably going to be liable to the motorist for any damages. The owner is probably never going to see a dime for the value of his horse."
She described a case several years ago in California that involved a herd of horses that got loose on a highway and caused some traffic fatalities. "For a while, the authorities were considering charging the owners with manslaughter," Nelson said. "Those charges were eventually dropped, when it was shown the horses had gotten loose through no one's fault or negligence. However, the estates of the people who died did sue for damages."
She noted that veterinary malpractice is an allegation that's tough to prove. "If a person is injured by a medical doctor through negligence, most of the settlement is typically based on pain and suffering," Nelson said. "Under the law, horses don't experience pain and suffering. The only times these suits may be successful is if the horse is verifiably valuable in terms of breeding or performance."
There are also a lot of arcane rules and regulations on the books relating to horses. "Some are by regulatory agencies, such as racing commissions and showing organizations like the USEF, covering all sorts of issues, such as drugs, equipment, and so on," she said.
Other rules pertain to land use and horses, agricultural exemptions and stabling/housing standards.
Nelson also issues some cautions to those who deal in horses. "When buying or selling a horse, contracts must include some specific information, such as an accurate description of the horse, the disclosure of all fees and commissions and the disclosure of any health conditions," she said. "A written bill of sale is required and must include the Florida Statute, 535.16, 'Sale and purchase of horses; unfair or deceptive trade practices.'"
Nelson cited the law's wording: "(1) The Department of Agriculture & Consumer Services shall examine the conditions surrounding the sale and purchase of horses and shall adopt rules pursuant to ss. 120.536(1) and 120.54 to prevent unfair or deceptive trade practices. Vertical integration of services and employees, in and of itself, shall not be considered an unfair or deceptive practice. The department's examination shall include the following: the disclosure of the legal owner and buyer of the horse and any dual agency to the buyer and seller; the disclosure of relevant medical conditions, defects, and surgeries; the conduct or alterations that could affect the performance of a horse; and the need for a written bill of sale or similar documentation. (2) This provision shall not apply to sales resulting from claiming races at licensed pari-mutuel facilities."
Another thing people sometimes fail to plan for, Nelson said, is who inherits the horses. "One elderly woman left $50,000 in a horse trust," she said. "The problem was she left 40 horses, and the money quickly ran out. The lawyers who helped her set up the trust had no clue."
Nelson said that the course is fun and informative. The first hour typically explains the concepts covered in that session, and the second half is interactive. The participants are presented with a real-world case dealing with the topic, and they get to play judge and jury and decide the outcome.
The courses cost $125 per session, or $350 for any three. For more info., visit www.equinebusinesslaw.com or call Anita Kane or Judy Blake at (561) 753-6563.