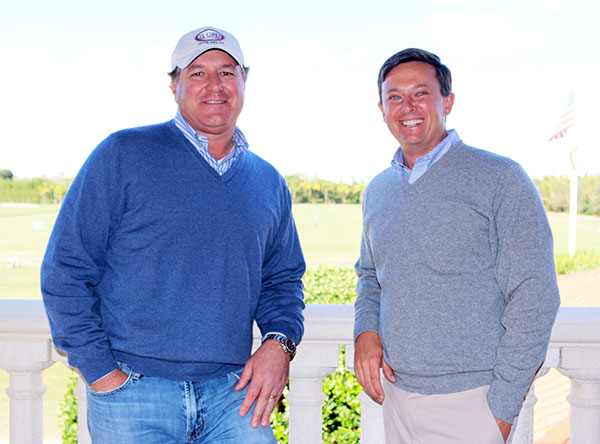 Wellington Equestrian Partners, led by managing partner Mark Bellissimo, completed the purchase of the Wanderers Club golf course this week.
Bellissimo, whose partnership also owns the Palm Beach International Equestrian Center and operates the Winter Equestrian Festival, announced the acquisition on Wednesday, Jan. 20.
"We're very excited," Bellissimo said. "This is really an amazing footprint, and we're very excited about operating this club and to continue in making it a really great place for families both in Wellington and the equestrian world. This is going to be a great place to converge those collective interests."
Until the change of ownership, the private golf, tennis, fitness and dining club located at 1900 Aero Club Drive in western Wellington was controlled by a private trust affiliated with polo mogul John Goodman. The Village of Wellington briefly entertained purchasing an unused section of the golf course in 2014.
The club's ownership change was somewhat sudden.
"It was a very quick turnaround time from when the opportunity presented itself, and we thought that it was an amazing complement to our vision within Wellington and that we would be great stewards of a great club in this community," Bellissimo explained.
The deal was put together and executed within weeks.
"We were very eager to become a part of it, so we were willing to both get to a contract and get to a closing very, very quickly," Bellissimo said. "I think it's the perfect fit and allows us to continue our investment in Wellington."
Rolling with the momentum, he and his team are working to make the transition easy for club members and employees.
Justin Thompson, general manager and golf director at the Wanderers Club, is excited about the new management and the possibilities it presents.
"The news is terrific. It's contagious with all of the members and all of the employees," Thompson said. "Everyone is really anxious and excited for a new chapter in the history of the club and really looking toward the future."
Familiar faces at the club will remain the same despite the change in ownership. The team already delivering high-quality, thorough service will remain in place.
Bellissimo reassured employees of this soon after taking over. "We look forward to working with them and continuing their excellent service," he said.
In turn, Thompson is looking forward to working with Bellissimo's team and utilizing the expertise and experience available.
"He's an inspirational guy and leader, and you can feel that, and it rubs off," Thompson said. "I think that will really help move the club forward."
Plans are already in the works for enhancing the club and integrating it more within the equestrian community.
"We're very excited about that. We've assembled our team within the equestrian domain — Equestrian Sport Productions — and have had meetings with the team here at Wanderers who we think are spectacular," Bellissimo said. "I think they are very eager in starting the next chapter in the evolution of the club. We're going to make the appropriate investments to make it a world-class club that is a year-round opportunity for families to enjoy golf, tennis, the pool, dining and fitness."
The club contains numerous amenities, including six lighted Har-Tru tennis courts, allowing for game play at any time, with shade shelters, certified tennis professionals, chilled water and comfortable seating. Also available are 24-hour racquet stringing, a fully stocked pro shop and other features. There are also two pools, including a children's pool and play area, and an Olympic-sized pool.
Manicured lawns blanket the Jacobsen Hardy golf course design, covering 18 holes with lush fairways and tournament-level conditions on the 18 hole, par-72 range. The club also offers a golf studio that will analyze a player's swing.
Fine dining awaits at the club's restaurants, which boast premier dishes featuring international flavors and elegant surroundings.
The club's proximity to Wellington Equestrian Partners' other venues was an attraction for Bellissimo.
"We just thought it was a very, very strategic acquisition for us, and that there will be some really great connectivity between the two worlds we're trying to connect — the Wellington community and the equestrian community," he said.
The group will be providing a shuttle between the club and PBIEC, he said. This will allow club members to easily travel between the facilities.
Bellissimo said that catering to the needs of members is important to him, and noted that he has taken steps to assuage any concerns current members may have through Q&A sessions, open meetings and gatherings to solicit feedback and learn how to best provide for them.
"We're hoping to keep pricing such that it will be accessible across a broad demographic, and we're excited about continuing that," Bellissimo said.
Many special events are held at the Wanderers Club, including private affairs such as weddings to occasional equestrian competitions.
"We'll continue with the schedule that we've sort of adopted," Bellissimo said. "I think there are some other interesting opportunities to hold events here that were looking for a home, and I think it's a perfect opportunity for us to leverage a lot of our sponsor relationships and use this as a great venue for some of those functions that we are not able to handle at the equestrian center."
As the equestrian season goes into full swing — the Winter Equestrian Festival has already begun, as has the nearby Adequan Global Dressage Festival — big things are on the horizon for the Wanderers Club.
"I anticipate that this will be the most exciting and fun club in the community," Bellissimo said.
Learn more by visiting www.wanderersclubwellington.com or calling (561) 795-3501.
ABOVE: Mark Bellissimo (left) with Justin Thompson, general manager at the Wanderers Club.