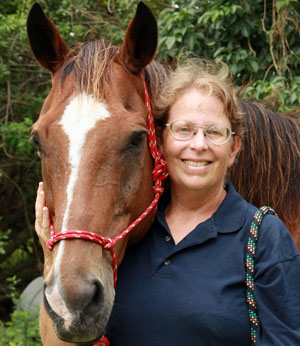 TALES FROM THE TRAILS
The South Florida Fair is just around the corner, and there's something for everyone at the horse tent. Co-chairs Meghan Garcia and Brianna Bennett have been burning the midnight oil planning shows and events.
Daily demonstrations include presentations by Rick and Trevor Steed of Steed Training, who specialize in reining cow horse training programs; all-around trainer Cowboy Bob Faath; Ashley Stevenson, who's made a specialty of gentling Mustangs; the Florida Whips driving club; and the U.S. Trotting Association, which promotes Standardbred horses. Saturday, Jan. 23 will be Mustang Day, with members of the Bureau of Land Management and other groups who promote mustang adoptions.
"We've reached out to some local groups as well, like the Palm Beach County Mounted Posse and the Acreage Horsemen's Association," Meghan said. "We'd like to have all the local horse groups participate. We'll also have the wall of breeds, with all sorts of information, and open times when anyone is welcome to trailer their horses in and ride in the ring."
The shows start on opening night, Friday, Jan. 15, with the first of three 4D Barrel Buckle Series shows. Exhibitions run from 7 to 7:45 p.m., and the show begins at 8 p.m. Entry fees are $35, and exhibitions are $4, cash only. Added money will be announced. Riders must wear collared long-sleeved or short-sleeved shirts.
For all horse events, riders 16 or younger must wear regulation helmets, and youths ages 8 to 18 must have attended the mandatory Youth Livestock Show Ethics and Animal Care Workshop by Dec. 1, 2015, or have a valid current ethics number. All horses must have a current Coggins. Horses should not be left at the fair overnight.
Also, for all events, there are 33 stalls available on a first-come, first-served basis. "We've got extra trailer parking nearby," Meghan said. "We'll ask people using stalls to unload their horses and move their trailers. People tying their horses to the trailers will be able to park close to the horse tent. All participants will get a free gate and parking pass for that day."
The other two 4D Barrel Buckle Series shows will take place the other two Friday nights, Jan. 22 and Jan. 29. Champion and Reserve Champion buckles, donated by the Red Barn, will be awarded at the last show.
An Extreme Trail Challenge class will be held Saturday, Jan. 16. Youths 17 or younger can sign up starting at noon, and rides begin at 1 p.m. Open riders may sign up at 4 p.m. and begin riding at 5 p.m. Classes cost $10 for youths and $20 for open. One horse and rider combo only, and there's a limit of two rides per competitor. A horse can be ridden only once through the obstacle course.
A pleasure show is slated for Sunday, Jan. 17, starting at 10 a.m. Classes are $8 each and run the gamut from halter and showmanship to western pleasure and horsemanship, English pleasure and equitation, as well as driving.
Sunday, Jan. 24 is 4-H Day in the horse tent. The show features western and English classes open only to current 4-H members. There are divisions for junior/intermediate riders 13 or younger, and senior riders 14 or older. There are also fun and timed events such as an egg and spoon race, command class, a potato race and musical cones.
On the evening of Wednesday, Jan. 27, there will be a One Turn for the Money and Poles jackpot show. The One Turn (Hairpin) entry fee is $20, and the Poles 3D is $25. Riders must wear collared shirts. The arena will be open from 5 to 7 p.m., and the show starts at 8 p.m. Champion and reserve riders in both events will win buckles.
A hunter/jumper show will take place Saturday, Jan. 30. Classes cost $8, and the show begins at 10 a.m. with lead line, walk/trot, and short and long stirrups classes. There are divisions for all levels of riders, including beginner hunters at 2', schooling at 2'3", children's and adults at 2'6" and working at 2'9".
The last show will take place on the last day of the fair, Sunday, Jan. 31, and it's a fun show starting at 10 a.m. Classes are only $2 each and include a keyhole race, a flag race, ribbon class partners, a potato race, a phone book race, ride-a-buck and a costume class, among others. It's sure to be a blast for both participants and onlookers.
Also on this day, the overall high point winner will be announced. "Riders can accumulate points throughout the fair by riding in as many different classes and events as they'd like," Meghan explained. "The points follow the rider, not the horse, so you can show in different events with different horses. The rider with the most points will win an engraved Corriente all-purpose western saddle."
Anyone is welcome to bring their horses to the fair and school in the horse tent during open days and evenings. "It's a good way to desensitize horses to lots of different sights, sounds and smells, and also to share our passion for riding with members of the general public," Meghan said. "Riders should be dressed appropriately and their horses turned out properly. I hope participants will take time to talk to people walking through the tent and explain what they're doing and why we love our horses."
She hopes to build on the successes of previous years.
"Last year our shows were a great success, and I'm sure this year's offerings will also be positively received," Meghan said. "Participating in the horse tent events is a great way to introduce people to our sport. If you have any questions, stop by the horse tent and look for me or Brianna, or contact me at southfloridafairequestrian@aol.com."
For complete information on each show, visit www.southfloridafair.com/p/kubotaagriplex/248 and scroll down to "Horse Pavilion."