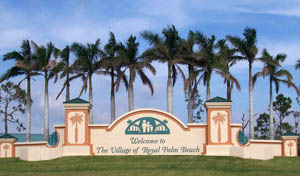 The Royal Palm Beach Village Council culminated a series of heavily attended public meetings last week by approving construction of a RaceTrac gas station at the northwest corner of Royal Palm Beach and Southern boulevards.
The vote at the Thursday, Jan. 14 meeting was 4-1 with Councilman David Swift dissenting.
RaceTrac representatives conceded to 16 instead of 20 pumps for the facility, and agreed to have three staff members on duty during late-night hours.
However, gas station representatives were given the ability to come back in the future and present their case for 20 pumps and only two night staff members, explaining that 20 pumps are necessary to give customers quick in-and-out service, and that security measures, including numerous cameras, should more than allay concerns raised by residents about security.
About 100 people, many wearing white "No" T-shirts or green "Yes" T-shirts, attended the almost three-hour meeting at the Royal Palm Beach Cultural Center.
The proposed station had been recommended for approval by village staff, as well as the Planning & Zoning Commission, but a final decision on the proposed gas station had been postponed several times, first at a regular council meeting on Oct. 15, where a large number of residents overflowed from the Village Hall meeting room, leading an attorney for residents opposed to the project to call for a postponement because all those who attended could not hear the proceedings.
The discussion was postponed to Oct. 29 at the Cultural Center, where council members further delayed a decision after more than an hour of public comment in order to get answers to questions raised during the proceedings.
The requested information included a market analysis by the applicant, a traffic letter from Palm Beach County regarding the number of gas pumps and a traffic study of the area. The council also requested an analysis of projected crime anticipated as a result of the RaceTrac project.
The proposed gas station did not require any variances but did require a special exception approval, which had been granted to a previous station in the area torn down when Southern Blvd. was widened.
Planning & Zoning Director Bradford O'Brien said that primary access would be from Southern Blvd. with secondary access from Royal Palm Beach Blvd. Both access points would be for right turns in and out only. There would also be cross-access points to the Kentucky Fried Chicken restaurant and medical center to the north and the Royal Inn to the west.
He pointed out that the station would have earth-tone colors rather than the bright red colors of other RaceTrac stations, and it complies with all requirements of the general commercial zoning district.
O'Brien added that the applicant received an updated letter from the county stating that the 20-pump station with a 5,928-square-foot convenience store meets requirements with certain conditions.
The applicant had also been asked to provide a report on surrounding property values, which concluded that the general trend on surrounding homes is that they would continue to appreciate in value and that the gas station would have no adverse effect.
The applicant was also asked to conduct a study on the effects of RaceTrac traffic on vehicular access and circulation on the Royal Plaza, where several schools are located. That study concluded that student pickup and drop-off traffic would not be affected by RaceTrac traffic.
O'Brien outlined security measures being taken at the station, which include recommendations by the Palm Beach County Sheriff's Office to maintain at least a 30-day surveillance tape and additional security measures on the pumps to include skimming prevention.
Vice Mayor David Swift said the gas stations used in the study on the effect of home values were in areas that could be considered "economically depressed," and the stations in the study did not have as many pumps as what was proposed.
"We have a number of stations here in town that I call neighborhood stations," he said. "They have about 12 pumps and don't have much effect on the neighborhood. What we're talking about is a 20-pump giant gas station, and I don't think you have a comparison to make."
Swift also asked why the consultant did not look at other RaceTrac stations, such as one in Boynton Beach near Leisureville.
Consultants explained that they wanted to compare stations closer to Royal Palm Beach. They also pointed out that the nearest home in Royal Palm Beach is 900 to 1,000 feet away, and that a Chevron station on Okeechobee Blvd., with homes as close as 250 feet away, had not had an effect on property values.
Brian Terry with the Wantman Group, representing RaceTrac, said the traffic circulation study related to schools and other businesses in the Royal Plaza confirmed village staff's conclusion that there would be no impact.
"We met with the principals of these schools, and we have been entirely open with the whole community," Terry said, adding that he had letters from the Ideal School and Western Academy stating that there would be no adverse impact.
Regarding security, Tom Hardy of RaceTrac said its policy is to maintain six months or more of videos for security and liability purposes.
Hardy added that the company's skimming prevention policy has been referred to by the state agriculture commissioner as an example of good anti-skimming security.
"We actually exceed that request from the sheriff's department," he said.
At the request of the PBSO, RaceTrac is also adding eye-level security cameras to catch better facial images, Hardy said, explaining that more than 20 security cameras will be on site.
Council members questioned the number of staff at night, and Hardy said two or three staff would be working at night, depending on the level of business. "Safety and security is paramount for our corporation," he said.
Swift said he had heard different numbers on the number of staff from 11 p.m. to 6 a.m. ranging from two to six, and asked whether RaceTrac would commit to having at least three staff on duty then. Hardy said he could not commit to the number of staff working then.
"We had this big discussion about safety of our residents and so-called crime in that area," Swift said. "It seems like you would commit to something more specific."
Hardy said it had been determined that it is a safe location, reiterating that the PBSO had stated that security measures had met or exceeded requirements.
Councilman Jeff Hmara said he had reviewed his notes from previous meetings where four to six employees per shift were mentioned.
"The impression I got was that would be during any hours of operation," Hmara said. "Now I'm hearing something very different."
Hardy said it was not a good business decision to put more staff on a shift than it demands.
"We will commit to the safety and security of our guests and our employees," he said, asking what other gas stations are required to maintain four or five employees at night.
Terry said that concerns had been raised that the station would have semi-trailer trucks refueling there, but he explained it is designed only for passenger vehicles.
He added that intersection improvements would be paid for by RaceTrac, not the village, and that all landscape elements on the property would be preserved or improved.
But Swift pointed out that a median currently at the entrance to Royal Palm Beach Blvd. containing six royal palm trees would be removed to allow intersection improvements.
Village Manager Ray Liggins said that those trees would either be moved to where they are needed or replanted at the village's tree farm.
Former Councilwoman Martha Webster, a RaceTrac opponent and candidate for mayor, questioned the veracity of the RaceTrac traffic analysis, and Swift said he did not favor removing the median on Royal Palm Beach Blvd. in order to make the intersection improvements.
Former County Commissioner Jess Santamaria, who owns one of the two lots where the station is slated to go, said the station will be an asset to the community.
"I have given my heart and soul to Royal Palm Beach," Santamaria said. "This is going to be the best service station in the western communities, second to none."
Swift made a motion for a compromise of no more than 12 pumps, and not removing the Royal Palm Beach Blvd. median, but it died for lack of a second.
After more discussion, public comments and a break for RaceTrac officials to confer with one another, Hardy said that the company would commit to at least three employees and only 16 pumps for a period of time, until they can establish a need for the additional four pumps, and that fewer than three employees are needed at night for security.
Hmara made a motion to that effect, which carried 4-1 with Swift opposed.
ABOVE: The Royal Palm Beach Village Council.