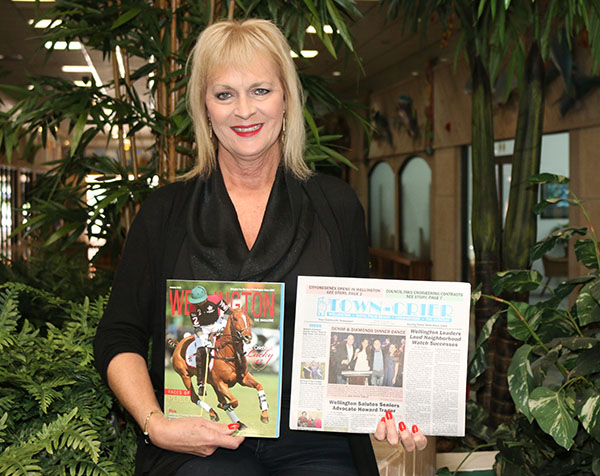 Longtime western communities advertising account executive Joetta Palumbo has brought her experience and expertise to the Town-Crier newspaper and Wellington The Magazine.
With 21 years of experience with the Forum Publishing Group, Palumbo is glad that she is able to continue working with business owners in the western communities.
"I love working with the local community," she said. "I'm looking forward to seeing some people who maybe I haven't seen in a while. Even though I live here, I've worked in the community and also outside of it. Now, I'm concentrating all of my energy within the western communities."
Barry Manning, publisher of the Town-Crier and CEO of Wellington The Magazine, is excited to have Palumbo on board.
"Joetta is well-respected in our industry, and I'm glad that local businesses will be able to continue to benefit from her unique expertise," he said. "I'm sure that we will also benefit from her long-standing relationships with many area business owners."
Palumbo's two children are now adults who grew up with many of the children of the business owners in the community, she said. Marketing and sales are her specialties, and she is looking forward to reconnecting with old friends and building new relationships.
Dawn Rivera, publisher of Wellington The Magazine and general manager of the Town-Crier, contributes Palumbo's longevity in the market to her professionalism.
"Joetta and I have been friends for many years," Rivera said. "The decision to add her to our growing company was an easy one for me to make. With her years of experience, and all of the resources now afforded to her, I know Joetta has the ability to satisfy the advertising needs of clients, both large and small."
A resident of the western communities for 36 years, five years in The Acreage and 31 years in Wellington, Palumbo is no stranger to the intricacies of the area and how to best present a company's advertising message.
"I will come to you, help you make your business more prosperous, provide a service, be a friend, and help you become more successful," Palumbo said.
To contact Palumbo, call (561) 793-7606 or stop by the office at 12794 W. Forest Hill Blvd., Suite 33, in Wellington.