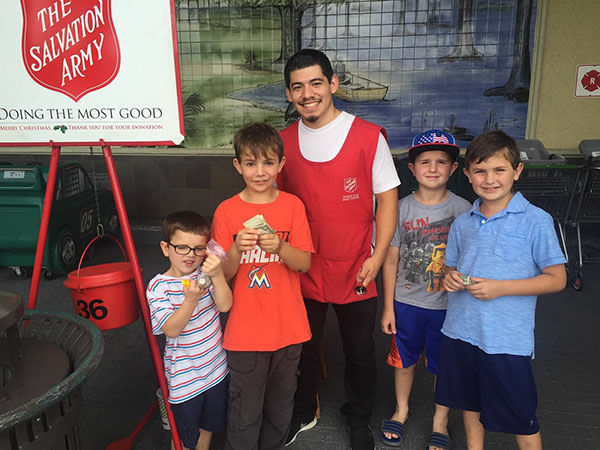 It was the first day of winter break and a handful of Wellington friends had fun with a neighborhood lemonade stand. After making an $8 profit, second grader Jackson Edwards, kindergartner Aiden Edwards, third grader Broderick Galloway and second grader Gavin Galloway decided to give the money to charity.
Scott Galloway, Gavin and Broderick's father, suggested the Salvation Army.
"They have the collection kettles," he said. "I thought donating there would make it 'real' for them."
After the boys decided to donate the $8, Scott offered to match $8, and each of the boys followed, donating $8 each from their own money.
As word got out among friends and family, the "#wewilltake8" campaign took on a life of its own. The boys collected more than $200 to donate to the Salvation Army and learned the true spirit of the holidays. All four are students at New Horizons Elementary School.
ABOVE: Aiden Edwards, Broderick Galloway, Jackson Edwards and Gavin Galloway donate the money they collected to the Salvation Army.