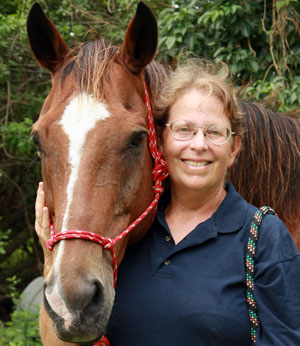 TALES FROM THE TRAILS
If you haven't started attending the weekly Lunch & Learn series, you're missing out on one of the most enjoyable parts of the winter show season. Every Thursday, from 11:30 a.m. to 1 p.m., friends and colleagues gather in the Wellington Club at the Palm Beach International Equestrian Center show grounds. The tables are set, and participants partake in a lovely buffet. Each week, a different topic is presented, and there are always great door prizes. The season finale door prize includes a custom trunk provided by Clever Jumps & Trunks.
"We're excited to have all new speakers and topics this season, with fresh ideas and approaches to horse and rider wellness, from top to bottom and start to finish," sponsor coordinator Laura Bostwick said. "This is our sixth year, and each year we've grown and improved. Our goal is to offer a well-rounded series of lectures on a variety of topics."
This year, the lectures are also viewable 24 hours following the event at www.pbiec.com, and while attendees can still register at the door, people are invited to sign up in advance at www.pbiec.com/page/lunch-learn-sign-up.
The first session, on Jan. 14, was "Optimizing Equestrian Performance for Horse and Rider." The presenters were chiropractor Dr. Matthew DiLallo, director at Ultima Sports Performance; chiropractor Dr. Addison Seitter; and Dr. Beverly Gordon, product creator and founder of Equi-Tape.
The Wellness Center at Ultima Fitness offers a variety of holistic health services, including reflexology, cranio-sacral therapy, manual lymph drainage, cupping therapy, chiropractic care, nutritional counseling, massage and stress reduction through mindful living.
"We can help with the health and well-being of both horse and rider," DiLallo said. "Ultima has a variety of modalities to improve training or recovery from an injury. If the rider is unbalanced, the horse is also affected. We can find the seat of the problem, which may not be the part that hurts."
Seitter agreed with the benefits of chiropractic therapy. "We can help riders improve all aspects of their performance," Seitter added. "Correcting a person's posture and range of motion translates into improved horses' gaits. We can help riders train for specific goals. Riding is a team sport, and both halves, horse and rider, have a lot in common. The goal is to prevent injury and maintain health."
Gordon spoke about kinesiology tape, particularly the brand she created specifically for horses, Equi-Tape. "It's latex-free and has different degrees of elasticity, allowing you to specifically modify each application," she said. "It has many benefits. It decompresses the tissue and lifts the skin, increasing circulation and lifting pressure off painful areas. It can support an area during training to prevent injury, or aid in recovery during rehab. It can help your horse stay sounder and perform better, no matter the discipline or level of riding. You can also use it in conjunction with other modalities — in fact, it often enhances them."
Each speaker gave an interesting presentation and took questions afterward. They were also available for more in-depth questions or follow-up conversations later. There were also giveaways. Everyone received a free one-week pass to Ultima Fitness, and Gordon gave everyone strips of Equi-Tape and offered to schedule hands-on demos at their barns.
The big prizes included a functional movement assessment with an Ultima sports performance specialist and an Equi-Tape assessment.
For more information about the Wellness Center at Ultima Fitness, call (561) 795-2823 or visit www.ultimafitness.com. To learn more about Gordon, visit www.thehorseinmotion.com or www.equi-tape.com.
The Jan. 21 session covered "Sport Nutrition for the Equine Athlete" with Russell K. Mueller, sponsored by Nutrena and Progressive Nutrition Supplements, while Jan. 28 was "Drugs, Devices and Decisions: Understanding Your Options in Managing Equine DJD" with Dr. Marian Little, sponsored by Adequan.
But just because you may have missed January, that doesn't mean you're out of luck. Upcoming sessions include: "Regenerative Medicine for Humans and Horses" on Feb. 4; "Recent Advances in Navicular Syndrome for the Equine Athlete" on Feb. 11; "Prevention of Tendon and Ligament Injuries" on Feb. 18; "Innovative Product Panel: Equine Technology" on Feb. 25; "The Stuff of Legends: How Ice and Joint Therapy Support Top Athletes" on March 3; "Maximizing the Recovery and Future Success of the Injured Competition Horse" on March 10; "Biomechanics of the Horse's Movement" on March 17; and "Pulsed Electromagnetic Therapy (PEMF) and the Control of Pain and Inflammation" on March 24.
You'll find me and some friends at each and every session. They're not only a great way to learn about useful, cutting-edge technologies and ideas; they're the social highlight of each week, and a terrific place to meet other horse enthusiasts and network with like-minded people. Oh, and the food and the door prizes are marvelous, too.
For more information about Lunch & Learn, contact Laura Bostwick at (561) 784-1130 or laura@equestriansport.com.