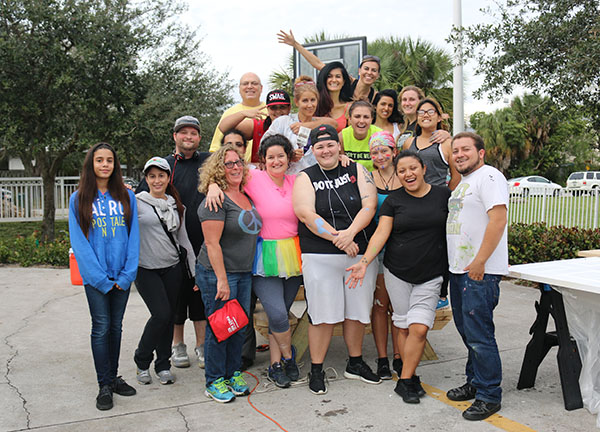 Last weekend, 21 people from Gratitude Training's Masterful Living class ML32 chose Grandma's Place in Royal Palm Beach for their legacy project.
"This is a place that is very close to my heart," CindyLou Castro said. "If we had more foster parents, the kids wouldn't have to be in a shelter. It saddens me that kids can't have even a temporary mom and dad — they have to have people who work in a shift. And these people are terrific at it. They're kind, loving and really couldn't be better at what they do, but it's still not a home. There are things that I knew we could make nicer for the kids and make it more homey."
Castro, a Gratitude Training participant, works with children who are in foster care, and suggested Grandma's Place when ML32 was looking for a service project.
The group staged a fundraiser with the White Elephant Bar & Grill in the original Wellington Mall to help pay for the supplies necessary to refresh the paint, update the fans and lighting, add to the landscaping and give Grandma's Place a facelift.
Gratitude Training, Castro explained, teaches people more than they ever expected to be able to do in their lifetime and that they must set their own limits in life.
"We have coaching. We get coaching calls twice a week, and then we have small group calls, and we get instructed on the best way to live our lives and to empower ourselves to make choices," Castro said. "I'm not looking for somebody to help me succeed; I can do it myself."
Coach and senior Gratitude Training student Chelsie Underwood used paint to refresh things for Grandma's Place.
"The children are the future, and we're here to show the children that there are people out there willing to change the world, to take themselves on and support others, no matter what race, no matter what gender, or background. We're just all here to help, and to love," Underwood said.
Grandma's Place Executive Director Roxanne Jacobs was astounded by the transformation.
"It is truly amazing what this group did in a weekend," Jacobs said. "I've never had so much done."
Grandma's Place has been the recipient of two other Masterful Living groups' assistance, Jacobs explained. The work done in mere days would have taken staff months to do.
"It makes it a brighter, cheerier place for our kids," Jacobs said, pointing out that they currently have six children too young for school.
ML32 painted the front door, put brighter lights in the bedrooms, refinished the kitchen table, painted picnic-table benches, made shoe cubbies for the children, installed new shower heads, brought an area rug, and supplied and planted more than 50 plants.
"Anything they do saves us money so that we can spend it on the kids," Jacobs said.
Grandma's Place, an emergency shelter for abused and neglected children, takes in children 12 or younger when the Florida Department of Children & Families pulls them out of their homes. The children stay at Grandma's Place until they can be put into foster homes or returned to their homes.
Grandma's Place is a nonprofit that is always in need of donations and supplies, such as water, backpacks, towels, juice boxes, tissues, hairbrushes, clothing, toothpaste, socks and underwear.
Jacobs was thankful for this latest Masterful Living class donation.
"They really made it look like a home now, very welcome and inviting," Jacobs said. "I was amazed when I came in on Monday with how different it looked."
For more information, visit www.grandmasplacepb.org.
ABOVE: Gratitude Training's Masterful Living class ML32 at Grandma's Place in Royal Palm Beach.