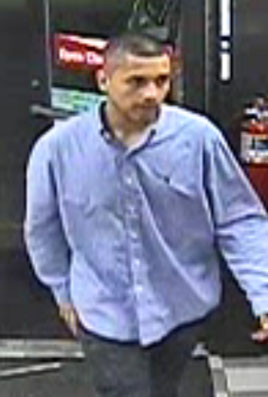 DEC. 25 — Palm Beach County Sheriff's Office detectives are seeking information about an unknown man who threatened a 7-Eleven clerk in the early morning hours of Christmas Day.
A white man entered the 7-Eleven store on Southern Blvd. in Royal Palm Beach on Friday, Dec. 25 at 4:40 a.m. and threatened to shoot the clerk. The suspect (shown right) implied that he had a gun, but a weapon was not seen. The suspect was wearing a blue, button-down shirt and dark pants.
Anyone who can identify the suspect is urged to contact Crime Stoppers at (800) 458-TIPS.