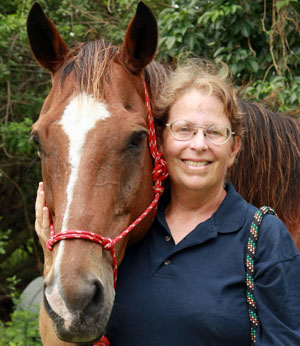 TALES FROM THE TRAILS
If you're free Monday, Jan. 11, here's your chance to participate in a clinic with Olympian Peter Wylde while also helping out a local charity.
Peter Wylde represented the United States Equestrian Team at the 1997 and 1999 World Cup Finals, competed with the U.S. squad at the 2002 Show Jumping World Championships at the World Equestrian Games, and was a member of the gold-medal winning U.S. team at the 2004 Olympics in Athens.
Wylde became an ambassador for Horses Healing Hearts in February 2013. "I met HHH's founder and director, Liz Olszewski, who happened to live next door," he recalled. "One thing led to another, and the more I saw, the more impressed I became. She is very passionate about helping kids. Slowly and surely I got involved and wanted to help out. I did my first clinic for them in 2014. This is my third year."
The clinic will be given at the Equus Equestrian Center in suburban Boynton Beach. There will be three 90-minute sessions: 2'6"-3' at noon, 2'3"-2'6" at 1:30 p.m., and 3'3-3'6" at 3 p.m. There will also be a question-and-answer session from 10:30 to 11:30 a.m. Riders are limited to four per session, and the cost is $200. Auditors are welcome for $25.
"This clinic is really special," said Olszewski, who started the nonprofit in 2009.
When Olszewski was 24, her mother died from liver disease resulting from alcoholism. The support of mentors and horses gave her strength and positive role models to emulate. Inspired by this, she dreamed of creating an organization to pay it forward and give this same blessing to other children.
"Peter is such a respected member of the horse community," Olszewski continued. "He's very down-to-earth. He spends individual time with each rider, offering creative solutions to their problems or suggestions of how to improve. Each year I see improvement in each participant by the end of the session. I'm happy to see them get such good results. And, of course, this is a great fundraiser for us."
Horses Healing Hearts is a charitable organization designed to help children in families suffering from substance abuse.
"Through the magnificence of the human and horse relationship, the kids are taught about responsibility and confidence. Our first goal is to maintain the kids' physical safety while allowing the kids and horses to work their healing magic together," Olszewski said.
Every weekend, groups of kids meet at one of the local sponsor barns. During the 2-hour session, they learn how to groom and tack up, followed by a 15-minute private riding lesson. While the kids take turns riding, the other participants are led by a volunteer facilitator through a curriculum.
"We help children who have been affected by a family member with addiction, or lost a parent to suicide, overdose or murder, to heal emotionally, build self-esteem and learn life-coping skills by working with horses," Olszewski said. "Our program is unique and made strong by the commitment of our volunteers, host barns and horses, who help these vulnerable kids open their hearts to trust again. They're crying out for help and guidance."
That mission inspired Wylde to get involved. "I love that HHH helps kids who need help," he said. "They're in such a delicate situation. I've sat in on some of the sessions and seen the changes it makes in their lives. They come away filled with hope and happiness. And of course, working with horses at any level is so positive and fosters self-respect. It's a great way to open a dialogue and give the kids a chance to vent and deal with their issues in a helpful way."
Wylde emphasizes that the clinic is open to riders of every type and ability, not just people who want to show at high levels. He teaches compassionate horsemanship and hopes that the participants come away wanting to learn to work with their horses, not just ride. This is the only clinic he teaches all year, and he also enjoys the Q&A session, where everyone, riders and auditors, is welcome to ask anything.
"Just show up and ask questions," he said. "I enjoy helping people and horses, and sharing my enthusiasm for the sport. The biggest thing, for me, is helping make people aware of HHH."
Jack Lube, 17, lives in Orlando and was excited when he learned about the clinic. His parents bought him a spot in the 3'-3'6" session for Christmas.
"I'm very excited about it," he said. "I show in junior jumping and equitation classes. I hope to get some pointers to improve my equitation and riding. I'm a working student at a local barn. I don't own a horse, but I like jumping. It's exciting and kind of challenging. I think it'll be really special to have a clinic with Peter. He has so much knowledge and experience, riding in grand prixs and the Olympics. I'm sure he'll tell me things no one else has told me before. I can't wait."
Olszewski is grateful for Wylde's help.
"He only has one day off each week, and he's giving up his time to help us out," she said. "He does this for free. All of the proceeds go toward our program expenses. I'd also like to thank our gold sponsor, Theraplate; our silver sponsors, Circular Wellness, Dover Saddlery, Accurate Collision and Jag Homes/Lang Realty; and our bronze sponsors, Visby Products and Horse Ribbon Racks. We welcome other sponsorships, which start at $100. We're grateful to everyone who helps us help these kids."
HHH is also seeking a local, Wellington area barn to host weekend programs. They need at least three lesson horses, a trainer and a quiet place for sessions with the kids.
For more information, visit www.hhhusa.org or e-mail Olszewski at liz@hhhusa.org. To RSVP for the Peter Wylde clinic, call (561) 906-4330.