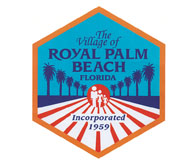 The Village of Royal Palm Beach will turn over a new leaf in 2016, as many projects are completed and new ones begun.
Royal Palm Beach Village Manager Ray Liggins provided insight into the village's busy upcoming year, telling the Town-Crier about some of the village's most noteworthy projects.
"We're going to close next week on the sale of the old wastewater treatment plant property to Lennar Homes," he said, noting the Jan. 6 closing date. "That's something we initiated at the end of 2014, put the RFP [request for proposals] out, selected Lennar, went through the due diligence period all throughout the year, and then came to a successful closing."
While Lennar begins work on the 385-home development, the village will work to put the $34 million windfall to good use for taxpayers. At the first Royal Palm Beach Village Council meeting in February, the village's investment consultants will advise the council on how to proceed.
As that project unfolds on the north end of the village, a development project will also be getting underway at the south end, now that Royal Palm Beach has approved the redevelopment of the Acme Ranches property.
"That's the biggest change the public will see," Liggins said. "There will probably be some work getting started on the area south of State Road 80 (Southern Blvd.) west of Lowe's… It's going to look a little bit different at the end of 2016 than it did at the beginning of 2016."
Coming in March will be a council election with three seats up for grabs. Mayor Matty Mattioli is retiring after six years as mayor and more than 20 years as an elected official. Councilman Fred Pinto and former Councilwoman Martha Webster are vying to replace him. Meanwhile, Greenway Village resident Lenore White is challenging Councilman Jeff Hmara for Seat 1, while businesswoman Selena Smith is challenging Vice Mayor Richard Valuntas for Seat 3. After the March 15 election, the new council will make a determination about what do about Pinto's current seat, which will then be vacant.
One controversial project will be in the spotlight immediately after the new year.
The Wantman Group will host a meeting regarding the proposed RaceTrac gas station at the corner of Southern and Royal Palm Beach boulevards on Monday, Jan. 4 from 7 to 9 p.m. at the Royal Palm Beach Cultural Center. To RSVP, call (561) 478-8501 or e-mail receptionist@wantmangroup.com.
While that meeting is not being run by the village, the council will discuss the project again on Thursday, Jan. 14 at 7 p.m. at the Royal Palm Beach Cultural Center at a special meeting to finish the public hearing on the gas station.
"My guess is we will be getting some resolution to that in January," Liggins said. "We're expecting a larger crowd. The first meeting we had on that, we could not fit all of the people into the council chambers. That's when we postponed it and had a meeting at the Cultural Center. We are anticipating the same amount of people."
Speaking of the Cultural Center, Liggins has received direction from the council regarding expanding that building. Many organizations lease space there, and a public meeting will occur most likely sometime in February to gather input on expanding the rentable space, especially for local nonprofits.
"I think that will be something that many of the organizations will appreciate," he said. "It is a little different. We're going to meet with them, get their input and go from there."
Over at Royal Palm Beach Commons Park, a permanent stage is under design. "Every event we have, we bring in a fixed stage, and we're looking to get a permanent stage," Liggins said. "That will be happening this year, along with adding some bathrooms out there."
Another large project will be construction work on Crestwood Blvd. from Saratoga Blvd. to Royal Palm Beach Blvd.
"We're adding an on-street bike lane and some curbing. When that's complete, we'll be able to restripe Crestwood Blvd. through Madison Green," Liggins said. "That will actually complete our on-street and off-street bicycle network throughout the entire village that we started 15 years ago."
Royal Palm Beach is a 3-mile by 4-mile rectangle, soon to be completely accessible by bike paths.
"You're talking about roadways that were all paved roadways. We had a vision to make them safer for bicycles and pedestrians. That's not something that's ever going to happen overnight. It's not something that you can even afford to do by yourself. You have to do it with assistance from others," Liggins said. "You have to do it by having first the vision."
When the Florida Department of Transportation wanted to widen Southern Blvd., Liggins explained, the village was specific about its bike path vision. As a result, there are extra-wide paths and additional lighting for pedestrian safety in that section.
"We stayed on it," he said. "Now, after Crestwood is done, we can say it's a complete network."
On the subject of transportation, Liggins also noted that residents will see roads in the village getting resurfaced. "The council put more money toward that than they ever have in the past," he said.
The village's new recreational vehicle storage lot near Costco, which will hold up to 300 RVs, will be opening this year, too, he said, noting that construction will begin in January and should be complete in the summer.
A request for proposals will soon be put out for a continuing care facility at Commons Park, Liggins said.
"We don't have a continuing care facility in Royal Palm Beach, and that is a projected need of the community," he said. "When someone gets up in years and isn't completely independent, there's a place they can go to and not leave Royal Palm Beach. That's our goal."
He has heard many stories of seniors who have lived in the village for decades, but have to leave their homes as their needs change. "It's actually kind of sad when you listen to the seniors," Liggins said.
Making the land available in front of Commons Park, he said, will allow the seniors to be in a central location for many community events.