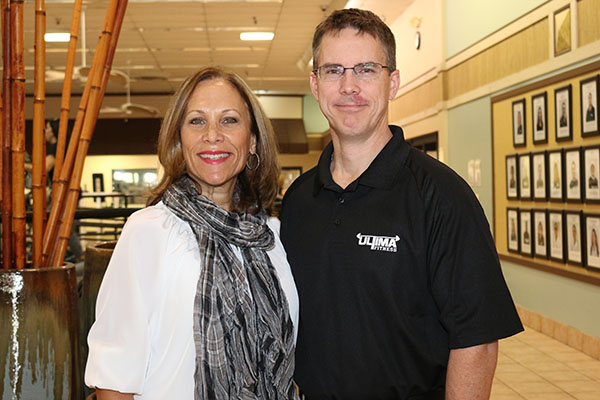 By Jason Stromberg
There's a new slogan at Ultima Fitness & Wellness. Jeff Keller, Ultima's new general manager, is leading the charge in getting that slogan voiced in the community.
"Our motto this year is, 'Make this the year for you!" said Keller, who joined the Wellington company in mid-December. "We want you to get so much from being here."
And getting so much from Ultima Fitness is easy. Not only does the local facility provide fitness and wellness programs, including an acupuncturist, but it also has two chiropractors on board, a sports performance section, barre and martial arts.
"One of the requirements of working here is that you have to care about people and care about the quality of what they want to be," Ultima Fitness owner Jill Merrell said. "Jeff is on board with that. He comes with a great education and great experience in the field. We are excited to have him."
Merrell, who has been with Ultima Fitness since its inception in 1990, would like Keller and his staff to continue to make every member's experience the best it can be.
"We believe everyone is an individual," she said. "We want everyone to be who they are. We want to give everyone the tools to have that. You want to try and make a difference. You have to care about people other than just yourself."
Keller is grateful that he has the support of Merrell and the rest of the staff.
"It's always nice to have a caring ownership. That's what we are all about," Keller said. "When it comes to talking fitness and wellness, a good start is to just move, do something. Would you rather spend time watching television, or invest time in your health? It's a simple paradigm. You get something when you invest something in your health."
Keller, 44, would know. The Lake Worth resident earned his undergraduate degree and master's degree from the University of Florida. He earned his undergraduate degree in exercise science in 1994, and then earned his master's in exercise physiology in 1996. To top it off, Keller also earned a master's of business administration degree from the University of Tampa in 2004.
"As long as you're active, you can accomplish just about anything," Keller said. "Certain people have medical conditions that you have to adjust to. If you're an athlete, there's a wide array of different things you can work out."
The theme for 2016 at Ultima Fitness is "12 Months to a Better You!" Merrell's daughter Jessica, co-owner and chief marketing officer, has confidence that Keller can help members accomplish their goals.
"I think it has been great having Jeff here," she said. "What mom has created over the past 26 years is the framework for the business. We created a strong foundation, so that someone could run the business with our vision. Jeff is going to bring our vision to life."
Besides working out at Ultima, another main initiative of the facility is its longstanding commitment to the community.
"We are involved with so many things," said Keller, who noted that Ultima Fitness has a corporate membership with programs for the School District of Palm Beach County and Palms West Hospital. "We do a lot more than just work in the gym. We have way more than that."
Jessica said that Keller is going to "captain the ship," as the Merrells stay as much involved as possible.
"He's running the facility," Jessica said. "He's completely running the day-to-day operations, along with the rest of our management team. He's managing the staff, serving our members and maintaining the cleanliness of our facility. We're ensuring that we continue to identify new opportunities and offer the best programs and services to our community and members."
Keller and his staff seek to make that a reality every single day.
"Our fitness staff here is a cut above," Keller said. "On the road to health, we are here for you."
Ultima Fitness & Wellness is located at 12799 W. Forest Hill Blvd. in the Wellington Plaza. Call (561) 795-2823 or visit www.ultimafitness.com to learn more.
ABOVE: Owner Jill Merrell and General Manager Jeff Keller.