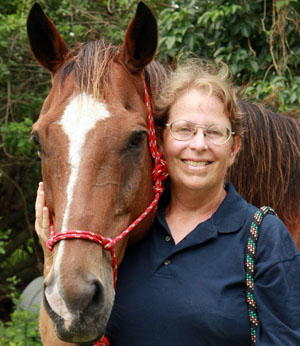 TALES FROM THE TRAILS
The fifth annual Robert Dover Horsemastership Clinic was conducted at the Adequan Global Dressage Festival facility Jan. 5-9. Eighteen talented riders and six auditors from across the United States were invited, chosen based on competitive success and attendance at Emerging Dressage Athlete clinics and programs. It offered these top up-and-coming riders lessons with some of the best riders and trainers, as well as presentations by industry professionals.
The clinic began each day at 7 a.m. with a fitness routine by Mike Barthowlemy. Then came lessons, three rings set up under the Van Kampen covered arena. Trainers included Robert Dover, six-time Olympian and current USET chef d'equipe; Steffen Peters, three-time Olympian, World Equestrian Games and World Cup medalist, and 2015 team and individual Pan Am Games gold medalist; George Williams, current USEF youth coach; Charlotte Bredahl-Baker, Olympian and current USEF youth coach; and Laura Graves, fifth place individually at the 2014 World Equestrian Games, fourth individually at the 2015 World Cup, Pan Am Games team gold and Pan Am individual silver medalist.
Participating riders were Alexander Dawson, Mikayla Frederick, Kristin Counterman, Tillie Jones, Allison Nemeth, Bebe Davis, Natalie Pai, Kerrigan Gluch, Allie Hopkins, Asia Rupert, Claire McNulty, Lilly Simons, Cassidy Gallman, Molly Paris, Anna Weniger, Nicholas Hansen, Allie Cyprus and Lindsay Holleger. Auditors were Julia Barton, Jessica Fan, Chloe Hatch, Bug Karls, Jordan Lockwood and Kylie Heitman.
The afternoons and the entire middle day of the clinic, Jan. 7, were filled with educational presentations. They included saddle fitting with Charlie Tota, master saddle fitter from the Dressage Connection; Laura King, sports performance coach; an Ice Horse demonstration by Liv Gude; Dr. Hilary Clayton, equine locomotion and biomechanics expert; Endel Ots, Kim Herslow and Mary Cameron Rollins together speaking about their experiences at international championships and how to transition from a young rider to a dressage professional; Dr. Rick Mitchell, USET dressage team vet; Jane Savoie, international rider and trainer; Janet Foy, FEI 4* and USEF "S" judge speaking about how to improve scores at competitions; Ken Braddick, a local media expert, on how to interview at a competition; Hannah Niebielski, a USEF representative speaking about opportunities available to youth riders through USEF; and a field trip to Oded Shimoni's barn to watch training sessions.
The lessons and presentations were also open to auditors, and I visited on the first day, Tuesday, Jan. 5. It was a wonderfully cool and breezy day. The well-organized event ran right on schedule, and the entire venue positively vibrated with excitement and optimism.
"We're honored to offer this opportunity to these deserving young riders," event coordinator Annie Cizadlo said. "It gives them a true sense of what it takes to be a top professional in this industry, along with the chance to learn from the best. The riders are paired with the trainers through random selection on a rotating basis. They start out really nervous, but by the end of the week they're in love with it all. The auditors get a lot out of it as well. Many say they wish they'd had the opportunity to do something like this when they were younger."
I sat in on the three lessons running concurrently, and was delighted at the trainers' positive comments and demeanors. Each made specific suggestions as to how the riders might improve their aids, their horses' gaits, or both. Comments included, "I love the way you did that," "super job," "nice ride," and "tell him good boy and pet him." The horses and riders took my breath away; they were that good.
Alexander Dawson, 15, traveled from Wisconsin with his mother, Amy, and Dutch Warmblood, Uno. He had been an auditor two years ago, and this year he got to ride.
"This is an amazing program," he said. "It's not often that you get to ride with this caliber of trainers. I'm very lucky. I'll have a lot of information to take home and practice. My goal is to someday become a trainer and have a really good connection with my horses."
Kylie Heitman, 20, from Michigan was one of the invited auditors. "It's super-inspirational," she said. "I'll take home a lot of information and connections with a lot of professionals. I'd like to work as a supporting member on a top rider's team, maybe in horse nutrition. I ride dressage, but not at this level. Watching them is very helpful. I'm happy to be here."
Tillie Jones, 14, and her mother, Tish, traveled from Nebraska with Mo, their Dutch Warmblood. "It's really different here in Wellington," Tillie said. "I love riding Mo in new situations. He still spooks at the dressage letters around the ring, but he's getting better. I've learned a lot. I'm really honored to be here."
Liv Gude, barn manager for the event, was pleased to help out. "I love educating riders in how to care for their horses," she said. "It improves their quality of life. My favorite thing is showing someone how to do something that's the best fit for them and their horse. I like being a resource. I tell them they should know their own horse better than anyone else, especially if they have grooms doing all the care."
Dover was also thrilled with the event.
"This is a fantastic group," he said. "I'm gratified at the caliber of these riders, horses and auditors. I hope the participants go home feeling more confident. Annie's done a spectacular job organizing everything. This clinic has evolved into one of the year's best. At the end, I hope we're helping create the next generation of U.S. champions."
To learn more about this event, contact Annie Cizadlo at (218) 349-3452 or kodester1@yahoo.com.