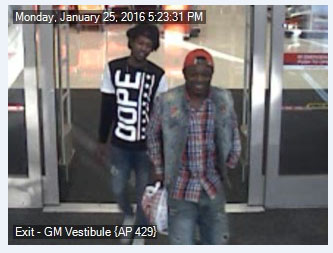 Detectives from the Palm Beach County Sheriff's Office are seeking the public's help in identifying two suspects wanted for burglary, grand theft and the fraudulent use of a credit card.
The victim's vehicle was burglarized on Monday, Jan. 25 while she was parked at a business near the Mall at Wellington Green on Forest Hill Blvd. Her purse, cash and credit cards were stolen.
Later the same day, two suspects were captured on surveillance video at the SuperTarget store at State Road 7 and Lantana Road after making a fraudulent purchase of gift cards and clothing with the victim's credit card.
If anyone can identify the two individuals shown above, they are urged to contact Crime Stoppers at (800) 458-TIPS.