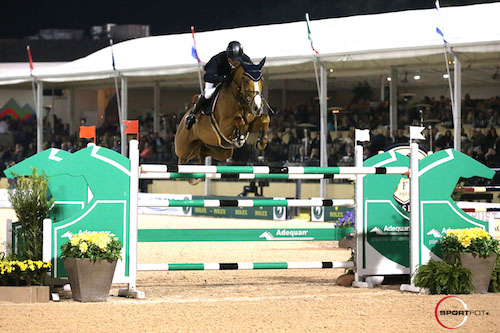 For the second week in a row, top American rider Todd Minikus was the big winner of the Saturday night grand prix on Jan. 30 at the 2016 Winter Equestrian Festival at the Palm Beach International Equestrian Center.
During week two of the circuit, Minikus topped the $86,000 Marshall & Sterling Insurance Grand Prix CSI 2* riding Quality Girl. For his win in week three, he guided Babalou 41 to a thrilling victory in the $130,000 Adequan Grand Prix CSI 3*. Laura Kraut and Nouvelle finished second, and Chloe Reid and Codarco placed third.
Luc Musette of Belgium set a challenging track for the 44 competitors in last Saturday night's highlight event under the lights. Seven entries cleared the first round course to advance to the jump-off.
Paris Sellon and Adare were the first pair to tackle the short course, jumping without fault in 44.19 seconds, to eventually finish sixth. Reid and Codarco jumped next, clear in 42.92 seconds, to take third place honors. Scott Keach followed with a clear round in 43.18 seconds aboard Southern Cross Equestrian LLC's Fedor to place fourth. Kraut briefly took the lead with a time of 41.87 seconds riding the Evita Group's Nouvelle, but settled for second place in the end. Conor Swail followed with a time of 44.08 seconds to take the fifth place prize riding Rubens LS La Silla for Vanessa Mannix. Meredith Michaels Beerbaum and Artemis Equestrian Farm LLC's Comanche 28 were next, but had four jumping faults and six time faults to finish seventh. Last to go, Minikus and Two Swans Farm's Babalou 41 blazed through the course for the win in 41.15 seconds.
Babalou 41 is an 11-year-old Oldenburg mare that Minikus has brought along for the last several years. The mare had a fantastic WEF circuit in 2015, including a win in the $150,000 Grand Prix CSIO 4*. She also jumped double clean that week to help team USA win the $100,000 Nations Cup. The pair went on to compete in the FEI World Cup Finals in Las Vegas in April, and represented Team USA in Nations Cup competitions three more times throughout the year in Hickstead, Dublin, and Calgary.
When Minikus had a fall in September that caused a severe groin injury, the rider was forced to take some time off, but noted that the break may have been a benefit to his horses, which have come back fresh and in winning form for the winter.
"I thought Babalou was fantastic tonight, and I would like to thank the whole team at Two Swans Farm," Minikus said. "My wife and kids could not be here tonight, but I would like to thank them for putting up with me. It is always a team effort, from the blacksmiths, to the veterinarians, to the Adequan that we use, to show management — there are a lot of people involved and a lot of people who deserve credit."
The time off left Babalou 41 well rested.
"She had a great winter last year and an awesome summer," Minikus said. "Then I fell off of her jumping literally a two-foot fence before the L.A. Masters, and this is her first show back since then. It probably was a blessing in disguise because now I have a very fresh horse."
Since he is coming back from an injury and the Olympic Games in Rio are coming up this summer, Minikus is also getting some extra help from trainers Katie and Henri Prudent this winter. "I am trying to be very serious about Rio. I think this is an important year and it can't hurt to have an extra set of eyes on the ground," he said.
This Saturday night at WEF will feature the Great Charity Challenge. For more information, visit www.pbiec.com.
ABOVE: Todd Minikus rides Babalou 41 to victory in the $130,000 Adequan Grand Prix CSI 3*. Photo by Sportfot