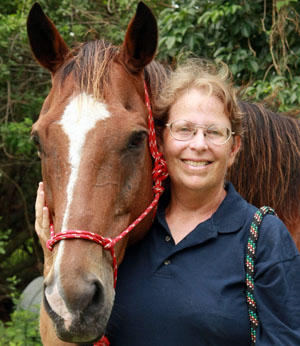 TALES FROM THE TRAILS
The Palm Beach County Mounted Posse staged its first new show of the 2016 circuit at the Jim Brandon Equestrian Center the weekend of Feb. 6-7.
Dressage classes ran all day Saturday. A diverse offering of jumping classes started that evening, with levels from 2'3" cross rails to 3'3" add-back money. Hunter and western pleasure classes ran Sunday, with multiple rings filled to capacity.
"Last year's opening show had more than 700 entries, and we left after 9:30 p.m.," Posse President Alyce Michelbrink said. "So we divided the eight biggest divisions evenly, getting everyone home a lot earlier."
The dressage show, entering its fifth year, regularly fills before the entry-close date every month.
"This year we're offering 2'6" Medal Class and 2'6" Child/Adult Hunter classes for the Southeast Medal Finals in Jacksonville. It's a great opportunity for local riders to qualify without spending a fortune or having to travel to find a rated show," Michelbrink said. "Our pleasure ring experienced the same growth spurt, and the addition of a separate trail ring and judge reduced waiting time. This year we've created lead line and walk/jog off lead divisions, starting them on a small pattern, novice walk/jog/lope for those moving up, brought back the popular bareback equitation class, and added western riding, a combination of reining and horsemanship."
Pam LiVecchi, owner of Desert Rose Ranch Equestrian Center, was glad the new circuit had begun.
"We're especially excited about the medal classes," she said. "That's a huge opportunity for a lot of local riders, a huge deal. We love the posse. We attend every show. This is a terrific venue for schooling barns like ours. I especially appreciate being able to move in and school the day before. The staff is fantastic; very hard-working. The judges are great. Everything is top-quality and definitely family-friendly. They also offer lovely year-end prizes, trophies and awards, and have a fun banquet. It gives everyone something to strive for."
Pam's entire barn often comes to the shows. "This time we have 19 riders and 13 horses. There are classes for more advanced riders, but it's especially welcoming for novice riders and green horses," she said. "They welcome all breeds; no one pooh-poohs anyone because they don't own a fancy whatever. They care more about safety, manners and suitability, which makes it fair."
Pam called it "the greatest schooling show in the country."
"I can't recommend it enough, whether you're a big barn with lots of clients or a single person with a backyard horse," she said. "I feel very fortunate to be allowed to show here. It's an honor. Once you try it, you'll be back."
I wandered about that Saturday, meeting many old friends, reflecting on how much nicer these show grounds were compared with the original, smaller posse venue at the corner of Belvedere and State Road 7. I spent many happy Sundays there, showing all sorts of horses. The classes were a lot smaller, and there were only two rings.
I ran into Rebecca Adkins, a veterinarian who works for Reid & Associates. She had been out to my house just a few weeks earlier stitching up one of my mares.
Rebecca had brought Lancelot, her 13-year-old draft cross. "I've had him nine years," she said. "I decided to try him in one of the dressage classes, first level. This is our first time showing at the posse. Our first time at Jim Brandon, too. I hope to get him back into training and hope the judge has some helpful comments so we can improve our training."
After she had finished, Rebecca was pleased. "The show was nice, quiet and ran smoothly. Everyone was friendly. We did well. The judge gave us good marks and made some excellent suggestions," she said. "We're going to work on a better carriage in our downward transitions and also on our lateral movement. It was a good learning environment; really excellent for bringing along new or green horses. I hope to go back again next month, if my work schedule allows."
The posse started as a small local schooling show for Palm Beach County, but it's no longer just a local show. "We draw riders and trainers from as far as Vero Beach, Davie, Parkland, Plantation and Southwest Ranches. We have barrel racers coming from the Keys to Okeechobee, and our new Saddle Series Jackpot show brought riders from Florida's west coast," Michelbrink said. "We have WEF riders schooling with us, and our judges are top-notch. Olympian Carol Lavell was a dressage judge at this first show — what an opportunity to ride before such a knowledgeable person, then talk with her and get feedback before riding a second test. Riders are welcome to ride any test, everything from Introductory through Grand Prix."
It's very relaxed — you don't need fancy clothes or equipment or braiding — and all for $25 per ride.
"Our judges have commented favorably on the quality of our horses and riders, which is quite special," Michelbrink said. "We have three generations of riders showing with us — parents, kids and now the grandkids. And even though our shows always have over 600 entries, we haven't strayed far from our roots. Even though we're a bigger posse, we're still the old posse."
Posse pleasure shows run the first weekend of each month, February through June and September through November. For more information, visit www.pbcposse.com.