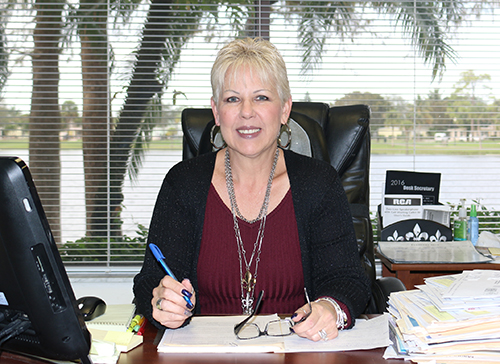 By Jason Stromberg
Where have the years gone? That's what Cheri Larsen ponders nowadays as the manager of Bigelow & Larsen, an insurance agency in Royal Palm Beach currently celebrating its 35th anniversary.
Larsen has been in charge of the local, family-owned and operated company for 10 years and counting. Her mother, Carol Bigelow, has been the owner since its inception 35 years ago.
"It means that the personal care and customer care that we provide to our customers mean something," Larsen said. "Not too many companies can attest to being open that long. It definitely says something, and we are extremely proud of that."
Larsen has always carried the promise of selling insurance fairly and honestly, putting her customers first at all times. With great customer service, fair prices and a family member always on board, the Bigelow & Larsen brand has found ways to flourish.
"The fact that we are here all these years pretty much says it all," Larsen said. "As kids, mom would have told us to put out fliers on the weekends. That was all a part of putting herself and this company on the map."
The day-to-day operations are handled by Larsen and family member Jami. Bigelow & Larsen specializes in insurance for cars, trucks, motorcycles, dump trucks, commercial vehicles, homeowners and non-owners, as well as SR-22 and FR-44 filings.
What are SR-22 and FR-44, you ask? Larsen can explain.
"Those are state filings that people have to sometimes get in order to reinstate their driver's license, or to reinstate their driving privileges," Larsen said. "It has become more and more common for us to handle that."
According to the Bigelow & Larsen web site at www.autoinsurancewestpalmbeach.com, everyone needs insurance, whether you have the best driving record or the worst, or whether you own a 5,000-square-foot home or a 900-square-foot home.
The professionals at Bigelow & Larsen have kept Floridians safe, legal and insured for more than three decades. To make insurance affordable, there are discounts on homeowner's insurance with proof of prior homeownership, as well as the availability of free quotes and automatic withdrawal payment plans.
"We also are able to write insurance for the unfortunate people who have suffered PIP [Personal Injury Protection] claims and are being canceled, or unable to find insurance elsewhere," Larsen said.
Signing up for insurance with Bigelow & Larsen for homeowner's, renter's or vehicle insurance will put you in experienced hands. The firm offers low prices from top-rated companies like Progressive, Travelers, Mercury and Foremost, to name a few.
"I have a habit of telling people that I may not be able to help everybody, but we will always do our best," Larsen said. "If we've met each customer's needs, that's a job well done. That's always our goal."
Bigelow & Larsen Insurance Agency is located at 685 Royal Palm Beach Blvd., Suite 103-B, in Royal Palm Beach. The agency is open weekdays from 9 a.m. to 5 p.m. For more info., call (561) 615-1100.
ABOVE: Cheri Larsen of Bigelow & Larsen Insurance Agency. Photo by Julie Unger