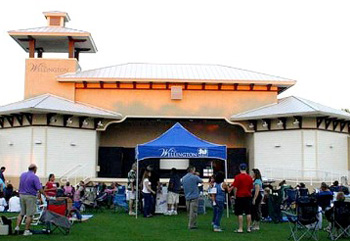 Songs will be sung and dreams will be fulfilled at Wellington's fifth annual Wellington Idol competition.
During the audition round on Friday, March 4 at 7:30 p.m., 31 teens and children will take to the stage at the Wellington Amphitheater to sing their hearts out. The finalists will return on Saturday, March 5 at 7:30 p.m. to find out who will be named Wellington Idol 2016.
Singers will perform on the same stage where previous Wellington Idol winners Cara Young, Lexi Luca, Jessica Pereira and Adrianna Siena reached for the stars and wowed the crowd.
This year's event will be slightly abbreviated, Cultural Programs & Facilities Manager Joe Piconcelli explained. No one signed up for the 18 and older division, so the two age groups for the competition will be 8 to 12 and 13 to 17.
"It's still going strong, and people are still interested in it," Piconcelli said. "We're going to keep it going as long as kids keep signing up."
Rather than occurring over the course of two weekends, everything will take place March 4 and 5, unless there is rain. If there's bad weather, check the Wellington calendar, because March 11 and 12 are being held as rainout dates.
Judging the aspiring singers will be Earleen Marlow, Palm Beach Central High School Choral Director Scott Houchins and Julie Schrager. Mike Soper will serve as the master of ceremonies.
Wellington Idol hopefuls will compete for a $500 grand prize, with the first runner-up in each division receiving $250 — and, of course, bragging rights.
About a third of the 2016 competitors are returning singers, Piconcelli said, but many of the names on the list are new to the competition.
The idea behind the competition, he explained, is to give aspiring singers the opportunity to perform on a live stage in front of an audience.
"We're looking forward to having an exciting evening and watching young talent bloom on stage," he said. "That's what I'm looking forward to — giving them a chance to perform on a live stage in front of an audience."
Though not everyone can win, the contest serves as a valuable learning experience.
"You learn from it, you come back, you dust yourself off and start all over again and try harder," Piconcelli said. "That's what it is all about."
For one talented contestant, however, March 5 will change the course of his or her year, as the title of Wellington Idol is passed down.
"I'm excited because we're going to get a new Wellington Idol winner," Piconcelli said. "Last year's winner [Adrianna Siena] was so great. Anytime we asked her to perform at all of the events, she came forward to perform the national anthem and sing songs for us. It's exciting to see these kids and how much they progress over the course of the year, and there will be another one. That's exciting to me."
Plan on bringing chairs and blankets to the Wellington Amphitheater and prepare to have an entertaining, fun-filled night out.
For more information, visit www.wellingtonfl.gov.