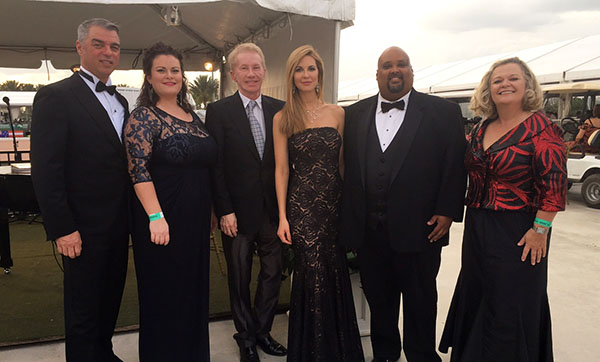 Opera Under the Stars, a fundraiser for South Florida nonprofit Opera Fusion Inc., will be hosted by Kimberly and Frederic Boyer on Monday, April 4 at Hampton Green Farm in Wellington. Artist, author and activist Mary Fisher will be the keynote speaker.
The event supports, and will include selected performances from, the opera company's upcoming Not In My Town musical drama, which tells the story surrounding the 1998 murder of Matthew Shepard, a gay Wyoming college student, and the positive changes that occurred in its aftermath.
Fisher is known for her speech at the 1992 Republican Convention, in which she discussed her HIV-positive status and contradicted the idea that AIDS was only a "gay disease."
She will speak at the benefit for Not In My Town, Fisher said, because, "Every town is 'my town,' and every vulnerable person is Matthew."
The Boyers, owners of Hampton Green Farm, are active equestrians and directors of the Van Kampen Boyer Molinari Foundation. Kimberly Boyer said she recently learned of Opera Fusion's plans for Not In My Town while a guest at an Opera Fusion event in Fort Lauderdale. "This one touched me personally, and I thought I would love to do something at my home," she said. "We could put on a really beautiful Opera Under the Stars."
Composer and librettist Michael W. Ross of Fort Lauderdale wrote Not In My Town, which will be premiered later this year by Opera Fusion, which is based in West Palm Beach. Selected songs will be performed June 17 in Fort Lauderdale at the Sunshine Cathedral (1480 S.W. Ninth Ave.) as part of the Wilton Manors Stonewall Festival Celebration. Tickets for that show, starting at $38, are available through www.operafusion.org. The first showings of the entire musical drama will be in September in Palm Beach and Broward counties.
Two men abducted University of Wyoming student Shepard, 21, on Oct. 7, 1998, pistol-whipped and tortured him, and tied him to a fence in a field outside Laramie, Wyo. After a cyclist eventually noticed him, the comatose Shepard was taken to a hospital in Fort Collins, Co., where he died Oct. 12. Shepard's killers were sentenced to life in prison. His parents, Judy and Dennis Shepard, started the Matthew Shepard Foundation to honor his life and to help parents accept children who are questioning their sexuality.
The musical drama addresses bullying — a subject that's in the news every day, said Opera Fusion president Dr. Xavier Garcia, a baritone and West Palm Beach veterinarian. "Our kids are bullied constantly, and they are either killed, or they commit suicide, or they are scarred for life," he said. "Mathew was killed because he was gay, but Matthew is anyone who has been affected by a hate crime."
The murder brought national and international attention to hate crime legislation. Congress passed the Matthew Shepard and James Byrd Jr. Hate Crimes Prevention Act, and President Barack Obama signed it in October 2009. The bill makes it a federal crime to assault anyone because of their sexual orientation or gender identity. Shepard and Byrd were both killed in 1998. Byrd was an African-American man dragged to his death in Texas.
The title of the musical drama, "Not In My Town," is a major confrontation scene and the crux of the show, its composer and librettist Ross said. "It's not necessarily about homosexuality," he stressed. "There are parallels to other civil rights movements — bullying and prejudice of all types can happen anywhere. My subjects involve themes of social injustice and are very personal to me."
In 1998, Ross marched in New York City and participated in a candlelight vigil for Shepard. He wrote Not In My Town in 2013. "In 1998, most Americans were horrified by the senseless beating," he said. "It may have been one of the most important turning points in the gay movement since the 1969 Stonewall riots."
Garcia said that he is proud to be carrying that message forward.
"There are many ways in which we can carry this message," he said. "Ours is through our music, through our voices. We need our voices to be heard if we are to make a change in this world."
Opera Under the Stars will be held Monday, April 4 starting at 6:30 p.m. at Hampton Green Farm, located at 13285 Southfields Road in Wellington. Individual tickets are $190 with several sponsorship levels also available. The event includes cocktails, dinner and performances by 10 of Opera Fusion's singers.
For information on table sponsorships and tickets, contact Birgit Fioravante at (954) 812-7679 or birgit@operafusion.org.
ABOVE: Opera Fusion stars on Friday, March 18 at the Adequan Global Dressage Festival in Wellington. (L-R) Baritone Xavier Garcia, soprano Robyn Marie Lamp, pianist Gordon Roberts, mezzo-soprano Christina Overton, tenor Lievens Castillo and soprano Birgit Djupedal Fioravante. Photo by Carol Carnevale