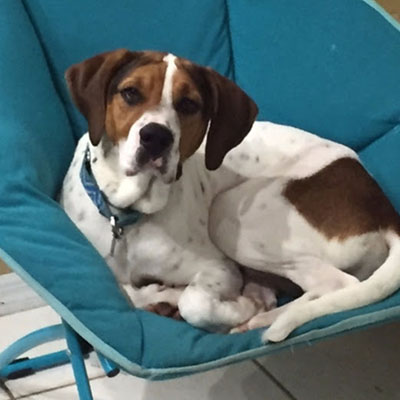 April 1 will not bring jokes and laughter to the canines calling Big Dog Ranch Rescue home. Instead, it brings another layer of uncertainty to many of their tumultuous lives.
They dream of forever homes, or of their move to a new 33-acre cage-free facility at the corner of Okeechobee Blvd. and D Road in Loxahatchee Groves — but first, they need to vacate their current home for a temporary home.
And they need your help.
Director of Marketing & Social Media Emily DeScalo explained the urgent situation that the local nonprofit is in. The Loxahatchee Groves campus won't be move-in-ready with its first phase until August at the earliest.
"That is where all of our dogs will be housed. Our bunk houses will be there, we'll have all of our cage-free rooms," DeScalo said. "But we actually have to be off our current property by April 1, which is right around the corner."
The back corner of the new facility is going to be open to puppies, as well as dogs that need medical attention.
At least one barn has already been offered to help house dogs, DeScalo said, and Big Dog partners like Woof Gang Bakery and Pucci & Catana are offering to hold adoption events.
"But we really, really need fosters for about 85 of our dogs," she said.
They are looking for foster homes for at least three to four weeks, to ease the immediate need while they search for other safe places for the dogs during the transition.
Dogs that need housing are highly adoptable, of all sizes and breeds. However, Foster Manager Debbie Hilton said, smaller dogs and hypoallergenic dogs have already found foster homes for the transition. Most of the remaining dogs are medium to large dogs.
When a dog is being fostered, DeScalo said, those at its temporary home keep in contact with Big Dog and are able to help compile data on the dog, such as its likes, dislikes and personality. Additionally, it is requested, but not required, that they be able to bring the dog to adoption events.
There are a few things to consider when approaching Big Dog about fostering, Hilton said. Consider if you are fostering because they are moving and if you want to get involved in the adoption process attending adoption events. The more dogs that are in foster homes, the more dogs can be served by the nonprofit.
"It's rewarding not only for the dog, but the person who is doing it as well," DeScalo said.
Although would-be foster parents can request a specific dog, Hilton will help match the right person with the right dog based on compatibility, needs and personality.
"Having a dog in the house, in my opinion, is just like having a child in the house. It is another living, loving being that you are responsible for taking good care of," Hilton said. "They give us a lot of unconditional, incredibly true love, and they're amazing. It's really fun to bring foster dogs home and find out about their personalities."
The dog's personality comes out as the dog is in the car leaving the ranch, or getting settled into its temporary home. Some of the dogs had a hard life prior to life at the ranch and have different needs.
Big Dog does not place any pressure on foster parents to adopt.
"We never really encourage test periods for our dogs," DeScalo said. "The best part about fostering is learning more about the dog, for us, and then finding the right home through that. It's not necessarily foster to adoptions. It's great when it does happen, and it's the right family, but it's not something we expect or really push for."
It is, however, a responsibility, albeit a rewarding one.
"I think there are a lot of misconceptions that these dogs are abused, but they are the most forgiving and loving creatures that are out there," DeScalo said.
When fostering a dog, Hilton said there are a few requirements to keep in mind. The dog must be kept on a leash — and not a retractable one — because how the dog will interact with other dogs and people is an unknown variable. A secure, fenced yard is important.
"There are dogs that can jump fences. You have to take the time to get to know a dog before you let him out," Hilton said. "We require leash walking, and want you to crate the dog in your house because that way the dog is safe."
When adopters aren't home, they are encouraged to crate the dog until they get to know the dog, for the dog's safety and for the foster parents' safety.
The dog could be scared of a new environment. For those who have never had a dog, it is important to watch front and back doors as people come and go, because that is how dogs tend to get out. Watch gates, and watch dogs around pools just like you'd watch kids around a pool.
Dogs should also not be allowed on furniture, Hilton said, explaining that height equals dominance to a dog, and if a dog is higher up than a small child, it will consider itself the dominant being.
Dogs and children need to be supervised. If you have a cat, it is important to separate or supervise the dog and the cat. And dogs need to be supervised around food. Dogs also need to be let out every so often and cannot be expected to be left alone for more than eight hours.
All veterinary care is provided at the ranch. Every dog is spayed or neutered, microchipped and vaccinated. Typically fosters provide the food, and the dogs are currently eating Purina Pro Plan Select Chicken and Rice. Those coming to the ranch to foster a dog need to come with a leash; the dogs already have collars.
Big Dog Ranch Rescue, currently located at 10948 Acme Road, is open seven days a week from 10 a.m. to 5 p.m. For more information about fostering, or how you can help, contact Big Dog Ranch Rescue at fosters@bdrr.org or call (561) 379-8282 or (561) 791-6465, ext. 1, for the Adoptions Office, or ext. 3 for the Foster Office. Learn more at www.bdrr.org.