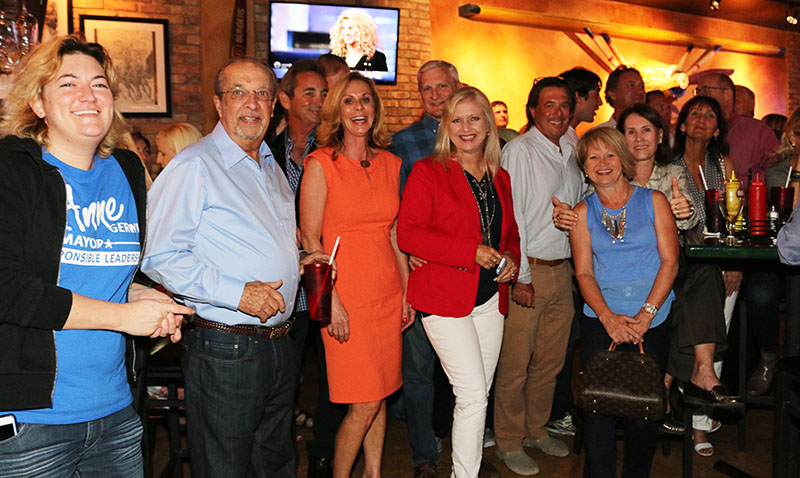 Wellington voters brought change to the Wellington Village Council on Tuesday, promoting Councilwoman Anne Gerwig to mayor and electing Planning, Zoning & Adjustment Board Member Michael Drahos to the dais.
A record number of voters cast ballots — more than 15,000 in an election that took place at the same time as Florida's presidential primary.
According to unofficial returns from the Palm Beach County Supervisor of Elections Office, Gerwig took 9,227 votes (60.7 percent) to 5,980 votes (39.3 percent) for incumbent Mayor Bob Margolis. In the race for Seat 1, Drahos took 8,010 votes (55.5 percent) to unseat Vice Mayor John Greene, who garnered 6,420 votes (44.5 percent).
Wellington voters also approved all three ballot questions put before them. Question 1, which adds protections for the Equestrian Preserve Area, passed 65 percent to 35 percent. Question 2, which changes the makeup of the Election Canvassing Board, passed 69 percent to 31 percent. Question 3, which forbids hotel and apartment projects in the Equestrian Preserve Area, passed 59 percent to 41 percent.
The candidates held watch parties with their supporters at local restaurants as the results rolled in. Gerwig was at Lindburgers Restaurant, while Drahos was at the Grille Fashion Cuisine. Margolis and Greene were at Suri West.
The Town-Crier caught up with Gerwig and Drahos on Wednesday to discuss their new positions.
"It's exciting. It's wonderful," Gerwig said.
Thrilled with the outcome of the election, she is relieved that the emotional campaign is complete.
Gerwig said that she is ready to hit the ground running and reshape the atmosphere in Wellington.
"I want to set a new tone for Wellington, for how we work with each other, how we work with staff and how the public perceives us. My desire is for us to have a better tone and a more relaxed attitude; one where we can work together," she said. "I'd like to see us step back and do some things that we used to do. We had a volunteer coordinator position where we really used a lot of our local residents and engaged them in volunteer ways that helped the community. I'd like to see us work on that again."
Gerwig thanked the many people who have helped her along with way, particularly former Councilman Dr. Carmine Priore, who encouraged her to become involved with the League of Cities and participate in training courses at the Institute for Elected Municipal Officials.
"He always encouraged me to find out everything I could about city government, what the goals are," she said. "He really did help point me in the right direction to learn how to do this job better and to work together with other municipalities."
Her family has also been very supportive, campaigning with and for her, and helping create campaign material. "It's great to have a family that is behind what you're doing, and my husband has been completely behind me the whole time," Gerwig said.
She also received an overwhelming amount of support from friends, as well as the community.
"I just want to thank everybody for the amazing community-wide support that I got," she said. "It's unbelievable to have 9,227 people vote for you. It's an incredible feeling. I'm honored to have gotten through this and had it so well-received."
Coming up on Saturday, March 19 is Wellington's 20th anniversary celebration, with fireworks, a history of Wellington, a trapeze, bounce houses and more at Village Park from 5 to 10 p.m.
Gerwig is looking forward to the event and the turning over of a new leaf in the village. "It's going to be all positive for Wellington," she said. "We can celebrate where we've been, where we are, and where we're going."
Drahos is excited for his future on the council.
"This is something that we worked on for a good six months to try and get to the finish line, and we did. We put on a campaign that I'm very proud of. Clearly our message resonated well with the residents, and I'm looking forward to going to work," he said. "It's a long six-month process. I don't think it has quite sunk in yet that it's over."
Drahos is glad that all of the hard work paid off.
"It's clearly a commitment, and its one I'm really proud of, and one I'm really proud that I did," he said. "I'm looking forward to now doing the job that I've been campaigning for."
Drahos' first order of business is to work on restoring credibility to the council and reassuring Wellington residents that the council is working for the best interest of the entire community, he said.
"The first issue that is going to come up is appointing someone to fill the vacant seat," he said, referring to the seat Gerwig left in order to run for mayor. "So the first thing I want to accomplish is making sure we pick somebody who is the right fit, who has the right approach, and who can be open-minded and fair."
As the newest member of the council, he is also looking forward to working with Gerwig and councilmen Michael Napoleone and John McGovern.
"I think we're going to be a good, productive group that will handle our job professionally and get the job done and do what we think is best for the community," Drahos said. "I'm excited about what this council can do. I think we have a very talented group, and I think we're going to work well together."
Looking forward to Saturday's 20th anniversary festivities, Drahos is excited to share the event with his family as a new member of the council.
"It's an exciting time for Wellington," he said. "To be able to celebrate that with my family as a member of the council is almost surreal. For me, it's an exciting time from a professional standpoint, but also, I think the community as a whole has shown a tremendous amount of interest in its future direction… Everything seems to be coming together at the right time, and I think people are extremely optimistic about where we're going as a community."