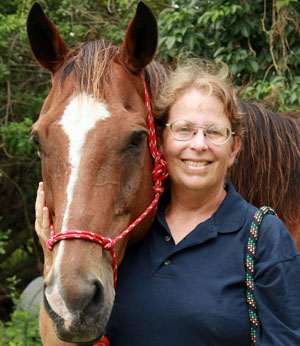 TALES FROM THE TRAILS
An excited group met at Hamlin House Community Center, next to the Nicole Hornstein Horse Park, on the morning of Saturday, Feb. 6. After signing in, everyone headed out to the grassy area, where people led seven horses and ponies about. It was one of the monthly gatherings of Horses That Help.
The brainchild of Executive Director Yvonne Moritz, Horses That Help is a nonprofit ministry that provides free horseback riding to special-needs children while offering them and their families a fun morning of horses, crafts, fellowship, bunny petting, breakfast and lunch.
"We officially started in September 2015, when we got our nonprofit status," Yvonne recalled. "Unofficially, we started three years earlier. My husband, Andrew, and I, and our three daughters, began volunteering at a local church. We brought along our black Shetland pony, Icee."
It is an idea that she had thought about for quite a while.
"I've always had a strong desire to help others heal, and I knew that using a horse or pony would be beneficial. Icee was perfect. He's small, not threatening to small children or people who might be intimidated by a larger horse," she said. "We never thought we'd evolve into an organization, but it kept growing. A lot of kids wanted to get involved, so I acquired more horses. Eventually, I decided to branch out and offer the program here in The Acreage."
The program started out in the pavilion at the horse park, but outgrew that and began renting the Hamlin House last November.
"We're sort of stretched thin, as we're basically self-funded. Eventually, we'd love to have our own property, at least five acres and a barn, so we could do this full-time," Yvonne said. "We can use all sorts of items, especially helmets and buddy stirrups, and more volunteers to bring their horses."
Among their sponsors are British Hay & Feed, Red Barn, Breen Organics, Jabrewski's Pizza and the Gonzalez family.
Horses That Help meets every month year-round. Yvonne hopes to increase that to twice monthly. On Feb. 6, in addition to Icee, she brought her four other horses, and two volunteers brought theirs. The excited families crowded along the rail — 25 to 30 kids who would ride, and about 60 volunteers to offer helping hands.
The event started at 9:30 a.m. with a prayer and a demonstration of horse leading and side-walking by Yvonne, Andrew and other volunteers.
"These are good therapy horses," Yvonne assured everyone. "They're special. They know when they're working. Our goal is for everyone to have a fun, safe time. I've had children who start out crying, terrified to get on, then crying because they didn't want to get off at the end."
The first riders were chosen and helped on, then led around the grassy area before the games began. Yvonne explained that the volunteers helped the riders get used to the horses' motion and also do some arm and leg stretches. Since it was February, many of the games featured hearts.
Justine Noel of The Acreage brought Kendall, her 4-year-old daughter. She heard about the group through a Facebook page called Loxahatchee Ladies, which highlights local events.
"Kendall is developmentally challenged," Justine said. "We attended their January get-together, and she loved it. She rode for 45 minutes, played games, had a scavenger hunt and races. It was wonderful. We couldn't wait to come back again this month."
Kendall is very excited on "horsey day."
"I can't say how much I appreciate this group," her mother said. "It's not only close to home, it's free. Horse therapy is perfect for Kendall. We plan to come as many times as we can."
Volunteer Candie Vitani brought along Sky, her paint mare. "I was riding in the park and saw them one day," she recalled. "I asked if I could help. That was six months ago. They're so kind and loving. They really have a heart for people, a love for everyone and God. This is so rewarding. It brings you real happiness and makes you appreciate what you have."
Carolina Maldonado has been bringing her son, Alan, 9, since the group started at the church.
"I love it," she said. "I can't explain how wonderful it is. Alan loves it, too. It helps him physically and emotionally. He never touched a horse before… Now he loves riding. I can't thank everyone enough."
Brent Starts and his daughter, Hannah, 13, are volunteers. They met Yvonne and Andrew through the church.
"Seeing the kids' faces is wonderful," Brent said. "Helping out is a joy to the spirit. It gives you a sense of accomplishment, being one with the community. There's healing and redemption here, for the people and the horses as well. Everyone has a purpose."
"The kids can relate to the horses' stories," Hannah added. "It's a healing process — horses and kids getting healed together."
Emily Roberts, 13, was one of the early riders. "Buttercup is nice," she said. "He likes me. I'm doing a lot better since I started. I love coming here. It's a lot of fun."
Emily's mother, Susan, looked around and smiled. "It's hard to describe how wonderful being here feels. It's like being with family," she said. "It has absolutely helped Emily. I wish I was a millionaire so I could donate more to them. This group is a testament to God's greatness. He has brought everything and everyone together perfectly."
Yvonne firmly believes there's something about a horse that opens doors and breaks down physical, mental, spiritual, emotional and cultural barriers.
"It's not just kids with special needs," she said. "Everyone needs help in one way or another. We aim to provide a safe, wholesome, loving environment where these kids can let down their guards and simply be kids. A child lights up when you point out their potential. As the children heal, their families heal, too. And it all starts with a kid and a horse."
For more information, contact Yvonne Moritz at (561) 281-8599 or yvonne@horsesthathelp.org, or visit www.horsesthathelp.org.