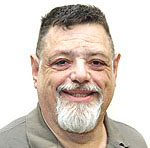 'I' ON CULTURE
I've had a huge number of people asking for my opinion of the Academy Awards. Well, perhaps a half-dozen e-mails and a few people who meet with me when I walk Lexi, my terrierista (silky terrier and chihuahua) each day. And I generally take a deep breath and then spew.
First, let me say that I have no issue with the winners this year. I thought Spotlight was the most deserving movie, and it won. It focused responsibly on an important topic and was really interesting throughout. The other nominated films were also good, although there are some flaws in them as there are in the winner, but no movie is perfect.
Leonardo DiCaprio, to some degree, got the Best Actor award as a sort of lifetime achievement award, but that has happened in the past, and he did give an impressive performance in The Revenant, although I thought he was better in The Aviator and Shutter Island. But there was no other performance that was clearly better.
I was pleased that Room's Brie Larson won for Best Actress. Her performance in a small-scale, harrowing film was incredible. As the trapped mother of a little boy, both stuck in an underground room for years, she was superb.
I was even more pleased with Mark Rylance's winning Best Supporting Actor. It was incredibly annoying listening to predictions that Sylvester Stallone would win because, well, this was about 40 years after the original Rocky and he was so sweet in interviews. Rylance, who avoided campaigning for the award because he was busy actually acting, gave a superb, understated performance that stole Bridge of Spies from Tom Hanks every time he appeared. I walked out of the movie wishing that he'd had far more screen time.
Best Supporting Actress winner Alicia Vikander from The Danish Girl was excellent, but she really had a starring role, giving an unfair advantage. That game-playing is unfortunate. I have read that Idris Elba, who was superb in the little-seen Beasts of No Nation, was pushed as a Best Actor nominee even though he really was in a supporting role. He won a Screen Actors Guild award in that category. Note that it was his producers who determined which category he would be in, and he didn't get a Best Actor nod.
Which brings us the big issue of the night: the lack of black acting nominees. As Chris Rock noted, even though there was a distinct lack, the people in Hollywood are the nice racist people. In fact, the whole issue is wildly complicated. The nominees for almost all categories are done by people in those fields. Costume design nominees are selected by those in the field, not by everyone. And the nominees generally are for historical pieces or strange sci-fi, not standard films. The tech awards tend to go the big, loud blockbuster-type films. The writers actually nominated Straight Outta Compton, so they get a pass. Again for directors, only they select the nominees, and this year they snubbed Steven Spielberg and Ridley Scott, both of whom directed films nominated for Best Picture.
So it comes down to the actors. And if anyone thinks they are a wildly racist right-wing group needs to get a life. I really resent watching actors wearing dresses costing thousands of dollars, which they get on loan and, for important actresses, get to keep; wearing jewelry worth hundreds of thousands of dollars; who each receive a thank-you bag of presents worth a quarter-million dollars for two minutes as a presenter; standing in front of millions of watchers to complain about the rest of us. On the red carpet, they held out their wrists to show their anti-gun bracelets while the cameras fought to keep the armed guards watching them out of the picture.
In summary, Hollywood people are basically children; talented ones, to be sure. And if they provide really good entertainment, why not give an award? The Oscars continue because people watch. Almost as many watch the dress-up red carpet shows before it even begins. Frankly, I look on the whole thing as the clown act at the circus. It is the movies themselves that are the important acts. A year from now it might be difficult to remember who won, but a great film is forever.