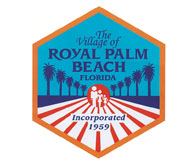 The Royal Palm Beach Village Council gave final approval for a land use change and preliminary reading to rezone 12.95 acres at the southeast corner of State Road 7 and Pioneer Road from single-family residential to townhouse residential last week.
At the March 17 meeting, Planning & Zoning Director Bradford O'Brien said that the developer plans to build 96 townhomes on the currently vacant property, located behind a shopping center recently finished by the same developer.
O'Brien said the applications meet all requirements for a land use change and rezoning, including recreation space, and the zoning is compatible with surrounding uses.
Agent Donaldson Hearing, representing the developer, said that they had resolved issues raised by residents of surrounding communities, who originally opposed the project.
"This has been in play with the village for several years as we had to set the stage for this," Hearing said, pointing out that they had originally applied for high-density apartments but reduced that at the insistence of neighbors and village officials. "We withdrew that petition and came back with the petition that is before you today."
Hearing added that the development plan to be submitted in the next month will be for 93, rather than 96, townhomes.
"It's going to be two-story, a great transition to the shopping center that's out front, which turned out extremely nice," he explained. "We're very proud of that."
Councilman David Swift said he would support the changes, but asked about the impact in terms of the greater number of residents and traffic than if it were developed as single-family residential.
Hearing said single-family residential would be about 36 units, while there would be 93 townhouses.
"I will tell you that the people next door were very pleased with our change from the apartments that were previously presented to the townhomes that we have today," he said.
Hearing said he had met twice with the neighboring residents and had planned another meeting.
"In general, they are very much supportive of the project," Hearing said. "We are talking with them about some traffic things, really to do with signal timing and getting access out onto State Road 7. There are some changes that occurred now that the shopping center is there. We think there are some opportunities to tweak that, but I will tell you that they are very pleased with the architecture… We're actually meeting with them to talk about construction access. If we can get construction access farther to the west, we can reduce the impacts on Westwood and Pioneer Road."
Hearing said the residents had gained confidence in the developer after the company built the shopping center to the specifications it had presented.
"We did exactly what we said we were going to do," Hearing said. "It turned out very well. We've got great buffers, and our residents to the immediate north have a wall."
Vice Mayor Jeff Hmara asked Hearing about the meetings with residents, and Hearing said they had been with the three surrounding homeowners' associations.
"They were very vocal when this was first brought to the council," Hmara said. "The fact that they are not here right now would show that they feel they have been heard, and it sounds as though you have resolved any issues."
"We've made great strides," Hearing replied. "As you know, they packed the room in the past. The president over there, we have become friends, so we've made a lot of great progress."
Swift made motions to approve the land use amendment and rezoning application. Both carried 4-0.