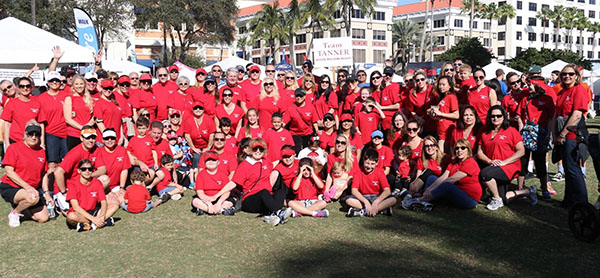 Agents from the Keller Williams Realty office in Wellington came out in record numbers to the Meyer Amphitheatre in West Palm Beach on Sunday, March 6 to participate in the 2016 Palm Beach Autism Speaks Walk.
The event raised critically needed money used for research and to increase awareness of autism — a disorder that affects one out of every 68 children in the United States today.
For the past seven years, the agents at the Keller Williams Wellington office have participated in the Autism Walk in support of their broker, Nancy Jennings, and her family.
Tanner, one of Jennings' grandsons, has been diagnosed with autism, so everyone is aware of the deep impact that this diagnosis can have on the whole family. Keller Williams' team is named "Team Tanner," and over the years, it has grown into one of the event's largest teams. This year, more than 70 agents participated, and they are on track to raise over $8,000.
"It is so heartwarming for me and my family to see the support of all of the agents," Jennings said. "When I see the sea of red T-shirts as we walk up Flagler Drive, I realize what a special place Keller Williams Wellington is to work. They are my second family."
Keller Williams Realty is located at 12008 South Shore Blvd., Suite 201, in Wellington.
ABOVE: More than 70 agents from the Keller Williams Realty office in Wellington comprised Team Tanner, named for the grandson of broker Nancy Jennings, in the Palm Beach Autism Speaks Walk 2016.