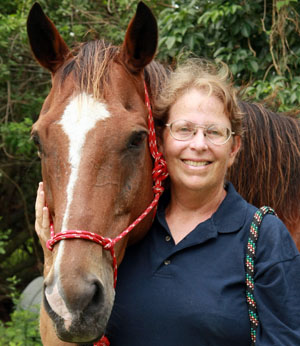 TALES FROM THE TRAILS
It's a little late in the season, but there are still two weeks left to take advantage of all that the Winter Equestrian Festival has to offer. Even if you're not into watching the shows, there are many other avenues to explore.
The whole family can enjoy a day out around the carousel, which, by the way, is free. On Saturday nights and Sunday afternoons there's a petting zoo, face painting and other amusements.
Even if you can't afford them, there are gorgeous saddles to drool over and try sitting upon. Sarm Hippique & Pariani offers handmade Italian saddles and tack. Other makers include Hermes, Bruno Delgrange, Voltaire, Antares Sellier France, CWD Custom Saddles and Devoucoux Custom Saddles & Tack. Beval Saddlery carries a fine selection of new and used saddles.
One of the more innovative saddlers is Maybach, located in the International Shoppes section. Each saddle is custom-made in Germany. The tree is a patented, thin wooden tree with carbon fiber inserts. They use a special measuring system to digitize the horse's back, and the tree is made to measure. The rider's anatomy is similarly gauged. Everything is customized — leather colors, knee rolls, flaps, whatever. They also offer bridles, halters, girths, pads, stirrups and gloves.
Speaking of tack in general, there is lots of that available as well: C.M. Hadfields Saddlery, Kocher Tack Shop, Tack 'N' Rider, Fox Run Saddlery and, one of my favorites, Equine Tack & Nutritionals, located at the far end of Vendor Village. This double-wide trailer stocks nearly anything you might need and, unlike some stores on the show grounds, Equine Tack has prices definitely competitive with local tack shops. The place is crammed with every conceivable supplement and first aid item: hoof dressings, fly sprays, halters, lead ropes, bridles, a great selection of bits, spurs and straps, stirrups and leathers, gloves, sponges, buckets, brushes and curry combs, plus sheets, blankets and horse treats.
If you're more interested in outfitting yourself rather than your horse, there's a lot to look at. Awesome Artifacts has horse-themed belt buckles, jewelry, riding tops and hair bows. Just Fur Fun has fancy dog collars and leashes, dog mugs and bandanas, as well as embellished spurs and brow bands. Peng Bags shows off a lovely and unique collection of one-of-a-kind leather purses, belts and extremely cute dog-shaped luggage tags.
There's also a ton of jewelry of all sorts, many horse-themed, of course. Whether you're looking for rings, bracelets, necklaces or earrings, you'll have more than enough varieties to compare and try on.
Some of the more unusual pieces can be found at Hunt LTD in the International Shoppes. In addition to clothing and accessories, owner Diane Griswold Johnston displays cases of hand-carved gem stones in the shapes of animal heads. There are rabbit, fox and horse earrings, parrot bracelets of pink tourmaline and turquoise, and cat, lion, snowy owl and bear pendants of petrified palm tree. My favorite, an aquamarine Labrador head pendant set in gold and backed with mother of pearl, was a cool $3,500.
There are tons of shops offering show shirts, breeches, coats (some stretch and water-repellent), helmets and boots. Some shops stock ready-to-wear, and some deal in custom-made, such as Fabbri and La Mundial. Each year I marvel at the variety of colors, styles and exotic leathers in the Der Dau tent. This year, Tucci Boots opened a shop at WEF for the first time.
"We offer both ready-to-wear and custom boots," said co-owner Kim Harker of New Star Farm. "Business has been steady. We pride ourselves on great customer service. We're the only Tucci store in the U.S., offering boots handmade in Italy for a reasonable price. Off-the-shelf boots go for $985, and custom pairs for $1,500. We also have a unique product, leather half-chaps which zip up the back like boots and snap to the front of Tucci paddock boots. They look like tall show boots. The chaps and paddock boots together go for $650."
Rider Phoebe Backman, of Avon, Conn., was getting measured for a custom pair of Tucci boots. She rides in the equitation and jumper classes.
"I needed a new pair of show boots," she said. "Tucci sponsors my barn, North Run, so I decided to check them out. I think they're really great and will last a long time. I'm having my initials done on the outside heels."
Salesperson Dylan Thomas took eight different measurements of each leg.
Sharon Lynn Campbell had a tent filled with her greeting cards and ceramics. She does full-size commission oil portraits of horses and dogs, then also makes greeting cards of them. Friend and customer Sue stopped by to visit. "I love Sharon's work," she said. "She has done both of my horses and my dog, Paris. See?"
She showed me the greeting cards. "I have the large originals at home," Sue added.
And in case you're looking for some other big-ticket items, you can check out the horse treadmills, such as the TheraPlate therapy machine and the Horse Gym water treadmills and cold saltwater spas.
So yes, you can visit WEF and watch the exciting jumpers, or marvel at those automatic flying changes in the hunter rings, or shake your head in wonder at the dressage movements, but you can also find anything and everything for the fashionable horse or rider, and enough fun artifacts to accessorize your house or barn. But there are only two weeks left, so get moving!