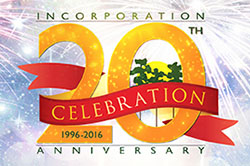 The Village of Wellington will celebrate the 20th anniversary of its incorporation with a special day of celebration Saturday, March 19.
The day will start at the Wellington Aquatics Complex with a pool party from 10 a.m. to 4 p.m. The celebration will continue with an extravaganza at Village Park on Pierson Road from 5 to 10 p.m., culminating with a Zambelli Fireworks show.
"We're celebrating our 20th year of incorporation and giving the public a different type of event," Community Programs Manager Michelle Garvey said. "We're trying to add new, different things than we've had before."
The day starts off with a free pool party featuring games and giveaways where people can splash the morning and early afternoon away, enjoying all that the Wellington Aquatics Complex has to offer.
After drying off, residents are invited to head over to Village Park. For those wishing to avoid the traffic, Garvey suggests utilizing the shuttle service.
"If people don't want to drive their cars into the park and want to avoid the lines, they can board the bus at the Palm Tran bus stop outside Nordstrom and get into the park quicker with less hassle," she said.
Once at the park, there will be plenty to see and do.
The Aerial Trapeze Academy is bringing circus artists, entertainers, fire breathers and jugglers to delight and entertain. Residents, Garvey added, will even be able to try the flying trapeze for themselves.
"That is something unique and different from our other events," Garvey said.
Superheroes and princesses will be walking through the park, posing for pictures and bringing smiles to children's faces.
Green Motion Segway Tours will be offering free Segway rides, and there will be plenty of bounce houses for jumping fun. There will be obstacle courses, slides, a rock wall and more.
Indoor activities include face painting and glitter tattoos inside the gymnasium, and friendly games of bingo sponsored by Humana. There will also be a presentation on the history of Wellington.
Public Information Officer Liz Nunez is excited to unveil videos and information about the history of Wellington starting back when it was strawberry fields and orange groves, to where it is today.
"We are extremely excited that Wellington is celebrating this milestone," Nunez said. "We're really excited to put on a show for everybody and celebrate."
Large displays showing the history of Wellington and how it has grown will be available during the event. "We're going to have videos of the former council members and founders — we're calling them the Wellington Founders — people like Ken Adams, Al Paglia, Dr. Carmine Priore and Kathy Foster; all who have helped shape Wellington and make it what it is today over the last 20 years," Nunez said.
The founders will tell their stories through the videos, explaining how they ended up in Wellington, what Wellington looked like before incorporation, and how the village has grown since then. The videos include stories from the founders and pioneers themselves, as well as comments from current council members.
"We're really excited not just to share a fun, happy event with our residents, but also the history, to honor what we're really celebrating, which is 20 years of this great hometown," Nunez said.
Most people, she explained, don't realize the extensive history of what has been accomplished within the last 20 years in Wellington. "For Wellington to have come as far as it has is a great achievement," Nunez said.
After working up an appetite, Garvey suggested that residents head over to the food trucks that will be offering food and beverages for purchase.
Bring chairs and blankets and head over to the stage at 5 p.m., where Wellington Idol winners will sing and delight with their talents. Shortly thereafter, the new Wellington Village Council will come to the stage and introduce themselves prior to a proclamation from County Commissioner Melissa McKinlay.
At 7 p.m., the popular tribute band Odyssey Road will take to the stage until 9 p.m.
As the sun sets, a laser show will start by the stage, and at 9:15 p.m., the sky will come alive with the Zambelli Fireworks show.
Dogs and personal fireworks are not allowed. Sponsors Waste Management and Suri West have helped make the event possible.
For more information, visit www.wellingtonfl.gov/20th.