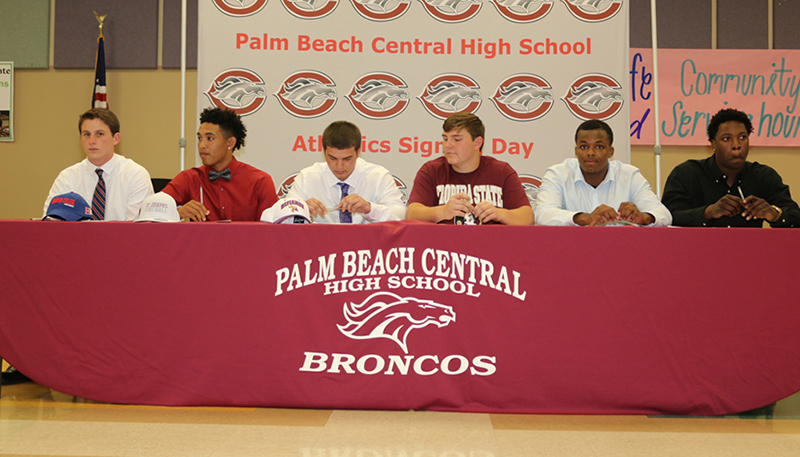 Thirteen student-athletes signed letters of intent at Palm Beach Central High School on Wednesday, April 13, in front of a cafeteria full of friends, family and coaches.
Soccer coach Ron Matella commended students Daniel De Los Rios and Marco Abergo, both heading to the College of New Rochelle.
"I finally get to do this," Matella said. "We haven't had many soccer players in the signing ceremony, and it's very unique that we have two guys going to the very same place. Danny played the outside back for us this year and did very, very well. He got the game-winning goal against Royal Palm Beach when we were down two men… Danny has come a long way in his four years playing here at Palm Beach Central."
De Los Rios, Matella said, started as a junior varsity player and moved his way up quickly to the varsity team.
"He's done very well for himself," he said. "We'll be sorry to lose him, but I'm sure he'll do bigger and better things at the College of New Rochelle."
On the other hand, Matella said, Abergo was destined to play the center back role.
"He was also one of our captains, and led the team quite well," Matella said. "I wish these guys great success in the great white north. Last time I checked, it snowed last week in New York. Good luck, fellas."
Volleyball coach Andrew Elder was proud of students Valerie Diaz, headed to Webber International University; Taylor Gregory, headed to Palm Beach State College; and Caleb Blazer, on his way to Grand Canyon University.
Charles "C.J." Shearer, Webber's assistant indoor volleyball coach, was at the ceremony to recognize Diaz and her hard work. "She really impressed us with the energy she put in," he said. "We're really excited about what she brings and just look forward to what she can do for us over the next four years."
Elder emphasized the impression that Gregory has made upon the volleyball players. "Coming in as a freshman, we knew that she would be great right away. She showed a lot of talent and a lot of dedication. She's one of the hardest-working kids I've ever been around," Elder said.
Blazer was also someone Elder never had to worry about. "He's a great kid. He has worked very hard," the coach said.
Originally, Blazer wasn't going to be playing volleyball, and now, Elder said, he's going to one of the biggest schools a PBCHS student has signed with. "We're excited to see him go all the way out west," Elder said.
Swimming coaches Christine Hill and Ken Caplin were proud of swimmers Sydney Mutschler, headed to the University of North Florida, and Lacy Phillips, headed to the University of North Carolina in Wilmington.
Both students were team captains and a large part of the team's success, holding nine of the school's girls swimming records between them, Caplin said.
"Congratulations. We're going to miss them," he said.
Football coach Tino Ierulli was proud of his football students, including Kevin Hagerty, who will play lacrosse at Florida State University. Playing football will be Matt Rier, headed to Hanover College; Savion Harris, headed to St. Joseph's College; Ryan Charles, headed to Defiance College; Taejon Thomas, headed to Culver-Stockton College; and Deion Stephens, headed to Fort Louis College.
"I'm sure all of you are well aware of the commitment it takes for a student-athlete to perform not only in the classroom but on the field. Football, and every sport, especially at the high school level, is a yearlong commitment. There's truly no off season, and these kids are putting work in all year long," Ierulli said. "Not only the six young men we have up here, we have three more we'll be signing. They just don't have their paperwork in yet."
Getting the students to the next level, he said, is something the school emphasizes. "We have some fine young men sitting up here who I'm very, very proud of," Ierulli said.
Hagerty, a football player, decided to play college lacrosse.
"Because he's one of us, I want him up here with his team," Ierulli said. "I'd like to thank Kevin for the leadership that he showed in the locker room, on the field and in the classroom. He's just a true leader. I'd like to thank his parents, and all these kids' parents, for all the support they've given us for the past few years."
He then gave a few comments about each player. Rier made all-county. Harris played many positions for the team and signed a full scholarship for college. Charles played on varsity as a junior. Thomas came to PBCHS as a 10th-grader from New York and received multiple college offers.
Ierulli worked to get Stephens to play football for years, eventually joining the team as a senior. "He has got such raw talent and athletic ability," Ierulli said.
Next year, Ierulli hopes to see even more students signing.
"I want to say congratulations to all the athletes who have signed today," Athletic Director Ray Atkins said. "It was a great honor for me, as my first act, to be with one of the largest, if not the largest, signing classes we've ever had at Palm Beach Central High School. Congratulations. I hope you guys have fun, work hard, and enjoy your four years in college."
Principal Darren Edgecomb honored former Athletic Director Ron Matella, who has passed along the torch to Atkins, the incoming athletic director.
The school is great, Edgecomb said, because of the parents and their support.
"Your kids are amazing. The Class of 2016 has just set the bar even higher," he said. "Our student-athletes in the Class of 2016, the ones who are up here, and ones who have already been up here, they set the bar extremely high as student-athletes. They are role models on our campus. They are doing the right things."
Student-athletes, he said, are held to higher expectations because they have to organize their time between their studies and their sports, prioritizing and making good decisions.
"These kids make our school great," Edgecomb said. "What's happening today is huge."