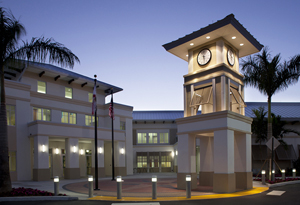 When the deadline passed on Monday, Wellington had 30 applicants for the vacant Seat 2 on the Wellington Village Council.
Seat 2 was vacated last month by Anne Gerwig upon her election as mayor. Next week, the council has set aside three times to discuss the extensive list of applicants and decide upon a new council member.
On Monday, April 11, after the council's agenda review meeting concludes, the applicants have been invited to give brief presentations. The agenda review meeting begins at 4:30 p.m.
At the regular council meeting on Tuesday, April 12, public comments will be taken regarding the candidates, after which the council will select three applicants to come back to a special meeting on Wednesday, April 13 at 6 p.m., when they'll be interviewed.
Council members will ask questions of each finalist for about 10 minutes. Then the council will discuss the finalists and appoint a new council member. That council member will serve until the next municipal election in March 2018.
The applicants for the vacant seat are:
• Kerry Baron, a Wellington resident since 1990, was an assistant U.S. attorney from 1989 to 2013 and was assistant district attorney for Kings County, N.Y., from 1977 to 1989. In 2015, he received the Palm Beach County Federal Bar Association Hon. Kenneth Ryskamp Award and was the first non-member of the judiciary to be so honored.
• Todd Barron, vice president and senior portfolio manager for UBS Financial Services, is active with several philanthropic organizations, including the Boys & Girls Club of Wellington (chairman), the Young Friends of the Palm Beach Symphony (founding member) and the Young Professionals of Wellington (member). He has a bachelor's degree in business administration from the University of Florida.
• Jefferson "Jeff" Browning is a general contractor and 25-year owner of Browning & Becker Construction, with 37 years of experience. He moved to Florida in 1985 and began developing multifamily units in Wellington in 1988, then moved his family here in the mid-1990s. He has served on the Parks & Recreation Advisory Board, coached recreational sports and has been a sponsor of various village sports, including Wellington High School teams.
• Tomas Bueno is a certified airline transport pilot with more than 15,000 hours in aircraft and several instructor ratings. He is active with the Young Professionals of Wellington (member), the Wellington Aero Club (director) and Vision of Flight (advisory board member). He has been chief pilot for several major airlines, including Valhalla Aviation where he works. He is also the owner and founder of IGT Graphics.
• Jane Cleveland, a competitive dressage rider, has lived in Wellington since 2012 but has been coming here to ride and compete since 1999, and has attended equestrian events since 1990. Cleveland owns Centaur Equities in Wellington. She was a real estate investment manager in Nashville, Tenn., and was active in the arts and music industry, including as director of marketing for the Nashville Symphony. She served on the Nashville Board of Zoning Appeals and holds an MBA from Belmont University.
• Carol Coleman chairs Wellington's Planning, Zoning & Adjustment Board and is an executive member of the Palm Beach County Sports Commission. She is a former member of the Equestrian Preserve Committee. Coleman owns Stud Tree equine fitness and is the former owner of Fancy Feet Dance Shoes Extraordinaire, which was purchased by the Fred Astaire Company. She is a United States Equestrian Federation "R" judge and ran unsuccessfully for mayor of Wellington in 2010.
• Charles Gardner, a Wellington resident since 1992, is senior managing director for WeiserMazars Valuation and Consulting Services Division in West Palm Beach, where he is responsible for building and maintaining client relationships and new business generation, specializing in multi-family assets. He holds a bachelor's degree from Jacksonville University and is a state-certified real estate appraiser.
• Annabelle Garrett is founder and managing partner of Pitario Capital Management. A lifelong equestrian, she started riding at age 5. A year ago, she started playing polo and now plays around the world. She is an active participant in advocacy and charitable efforts, including the Everglades Foundation, JustWorld International, the Boys & Girls Clubs of Palm Beach County, the Kids Cancer Foundation and Wellington Regional Medical Center. She holds a bachelor's degree from Brown University.
• Bernard Godek is CEO of Habitat for Humanity of Palm Beach County, overseeing financial management, budgeting, resource development, contract and grants compliance, home construction and rehabilitation, family social services support, volunteer coordination and retail operations for the well-known nonprofit.
• Sergio Guerrio is an officer in the Florida Department of Health and a member of the Audiology and Speech Pathology Licensure Board. He holds degrees from the College of Audiology at the Pennsylvania School of Optometry (doctorate), the University of South Florida (master's) and has made numerous presentations and written many publications on audiology.
• Marcia Hayden, who chairs Wellington's Education Committee, is a communication professional with 40 years of experience in corporate and agency public relations, advertising, publishing and marketing. She is project manager and lead navigator for the Health Council of Southeast Florida. Hayden was appointed by the governor to the Palm Beach County Housing Authority in 2008, which she chaired from 2013 until last year.
• Jesse Kearney was a real estate broker associate with Keller Williams Realty for 11 years before his current position as a real estate broker with Kearney & Associates Realty. He previously worked as a massage therapist, athletic trainer and chiropractic assistant. He volunteers at Binks Forest Elementary School and with the Boys & Girls Club of Wellington.
• Stephen Levin is president of the Cool Beans Indoor Playground & Café franchise based in Palm Beach Gardens, where he improved revenue 43 percent. He trained consultants on approaches to phone sales, used phone recordings to improve effectiveness, improved profitability by training others how to eliminate wasteful processes and created franchise training systems.
• Edward Lynch Sr. was managing member of the Everglades Group general contractor from 2012 to 2015 and held construction consulting positions with several contractors before that. He majored in economics with a business management emphasis at Drew University. He is a member of the Construction Industry Licensing Board, owned a major electrical contracting company and has been a professional race car driver. He retired in 2000 and moved to Florida to raise his family.
• Dr. Veronica McCue is an internet teacher of Korean business people in conversational English for application in their chosen professions. Previously, she has been a principal or educational director at several schools from kindergarten to high school. She has a doctorate in education from Nova Southeastern University and is a certified college coach for students with Asperger syndrome.
• Izzy Parrado is coordinator of the school counseling department at Okeeheelee Middle School. She has been an English for Speakers of Other Languages (ESOL) counselor at Palm Beach Central and John I. Leonard high schools, and taught economics and government at Wellington High School. She is a board member of the American Association of Caregiving Youth and was a member of the Palm Beach County Hispanic Council from 2010 to 2013.
• Dr. Carmine Priore was elected to the first Wellington Village Council in 1996 and served as mayor from 1998 to 2000. He was re-elected in 2000, 2004 and 2008 and left office in 2012 due to term limits. He has received numerous appointments to local and state organizations. A dentist, he graduated from the Medical College of Virginia and has a bachelor's degree and an MBA from the University of Miami. He graduated from Leadership Palm Beach County in 1994 and is chairman of the Board of Trustees of Palms West Hospital.
• Steven Rosenblum was born and raised in Great Neck, N.Y., and attended Skidmore College. He began working in the retail pharmacy and medical supply industry in 1986 and eventually became a general manager. He started his own internet-based medical supply business, 21st Century Medical, in 1998. He is currently employed at Jupiter Drugs & Medical Supplies. In 2008, he ran unsuccessfully for the Florida House of Representatives.
• Andrew Schaller is president of Palm Beach Financial Exchange, an electronic banking company with branded software that handles recurring billing for businesses. He purchased equestrian land in Wellington in 1999 and created the Fine Equine dressage facility. In 2010 and 2014, he ran unsuccessfully for the Palm Beach County Commission. Born and raised in Torrington, Conn., he received a bachelor's degree in marketing from St. Leo University.
• Curt Siegmeister is a program integrator at Lockheed Martin Palm Beach, where he assists the site director in initiating, tracking and executing leadership directives. In 2014, he was the southeast Florida political director in nine counties for the Rick Scott for Florida campaign. In 2011, he was legislative affairs director for the Agency for Workforce Innovation in Tallahassee. He has a bachelor's degree in business administration from the University of Florida.
• Robert Simeone is CEO and owner of Epiphany's Treatment Center, a substance abuse and treatment center in West Palm Beach. He is a retired Palm Beach County sheriff's deputy and an adjunct professor in criminal justice at Palm Beach and Indian River state colleges. He is founder and president of the Children of Wounded Warriors. He has a master's degree in criminal justice from Keiser University and a master's degree in public administration from Nova Southeastern.
• Tanya Siskind is a member of Wellington's Education Committee, president of the Binks Forest Elementary School PTA and vice president of the Palm Beach County Council of PTA/PTSA, where she conducts annual leadership training. She also has served with the Junior League of the Palm Beaches for the past 10 years. She has an MBA from Pepperdine University and a bachelor's degree from the University of Maryland.
• Kara Skorupa is an attorney. From 2000 to 2015, she was the founding partner of Kara Skorupa Esq. of North Palm Beach, Belle Glade and Wellington. She is currently of counsel with the Deratany Firm of Chicago. She is a board member and parliamentarian for the National Society of the Daughters of the American Revolution, Spirit of Liberty Chapter, and senior member and advisor of the National Society of the Children of the American Revolution, Chief Tiger Tail Society.
• José Soto has been a case manager for the Department of Senior Services of Palm Beach County for the past five years, where he works with seniors, veterans, homeless and disabled people in need of social services. He has a bachelor's degree in organizational management from Palm Beach Atlantic University. He grew up in Guatemala City.
• Bruce Tumin, a six-year Wellington resident, is president of Tumin Engineering, which has more than 30 years' experience in forensic, fire protection and civil engineering, focusing on structures, foundations, roof covering and finish flooring systems for the insurance industry. He was appointed to the village's Construction Board of Appeals a year ago. He has a bachelor's degree in engineering from the University of Central Florida and is a licensed engineer.
• Evan Turk is an attorney and managing partner with Principle Counsel, a law firm specializing in asset protection, business transactions, family office services and estate and tax planning; and an investment professional specializing in investments, health and life insurance. He has a law degree from Nova Southeastern University and a bachelor's degree from the College of New Jersey. He has been admitted to the Florida and New Jersey bar, the United States Tax Court and is accredited with the Department of Veterans Affairs.
• Karyn Turk owns Principle Offices, a collaborative organization for legal and financial professionals. She has lived in Wellington for three years and is on the board of the Women of the Wellington Chamber. She has Florida insurance and real estate licenses and is a professional certified marketer. She is currently Mrs. Wellington (U.S. Continental) and will compete next month in the Mrs. Florida pageant. She is married to Evan Turk, and together they have six children and a grandson.
• Vincent Weber is chairman and owner of the Crestline Group, which provides consulting services to federal, state and local governments, banks and corporate entities regarding acquisition, management, financing, construction, liquidation or compliance issues. The group includes Envirocrest Services, which consults on environmental issues, and Crestline Financial, which provides strategic assistance to financial institutions. He has a master's degree in banking, finance and real estate from Fordham University.
• John Webber is a lawyer and senior associate with McIntosh, Sawran & Cartaya in West Palm Beach and Fort Lauderdale, where his practice focuses on healthcare issues and the liability of healthcare professionals, maritime law and insurance coverage. He is secretary for the School Advisory Council at Binks Forest Elementary School and a Wellington Little League coach. He received his law degree from Fordham University and a bachelor's degree from the University of Connecticut.
• Thomas Wenham was elected to the first Wellington Village Council in 1996 and served several terms as mayor, including as the first elected mayor. He was capital projects manager for Palm Beach County Fire-Rescue from 1995 to 2012. He received a Certified Public Manager designation from Florida State University and earned a bachelor's degree in engineering and management from Northeastern University. He serves on the Florida Atlantic University Pine Jog Advisory Board and is a board member of the Wellington Community Foundation.
The résumés of the candidates, along with their answers to the application questionnaire, can be found at www.wellingtonfl.gov/councilvacancy.