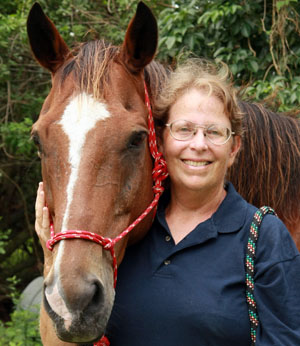 TALES FROM THE TRAILS
Summer's almost here, and if you have a horse-crazed child, now's the time to evaluate local riding camp options. Happily, there are many to choose from. Here are a few:
• The Palm Beach Riding Academy in Wellington invites children ages 5 to 13 to improve their riding and horsemanship skills while making friends and developing confidence. Activities include riding-related games, riding lessons, horse care skills, demonstrations, trail rides, games, crafts and an occasional horse show. Camp runs Tuesday through Friday from 9 a.m. to 2 p.m. with extended day options available. Dates are June 14-17, June 21-24, July 5-9, July 19-22 and Aug. 2-5. It costs $350 weekly for PBRA members; $400 for non-members. For more info., call (561) 784-4275 or visit www.pbra.coth.com.
• Jupiter Equestrian Camp runs from 9 a.m. to noon, from June 6 through Aug. 12. The daily rate is $75, or weekly for $225. Aftercare runs $40 per day. Campers learn horse safety, horse care, riding techniques, confidence-building, personal growth and physical refinement. There are farm animals to play with, a lagoon-style swimming pool, fishing, canoeing, and games and crafts galore. The camp is on a safe, 20-acre estate. For more info., call (561) 373-3952 or visit www.jupiterequestriancenter.com and www.sanditrails.com.
• Staffordshire Equestrian Center in Boca Raton focuses on equine care, balanced seat riding, horsemanship and farm chores. Children ages 6 to 14 are immersed in a daily horse experience and participate in an end-of-week horse show. Camp runs Monday through Friday from 8:30 a.m. to 2 p.m., and costs $250 (aftercare additional). Current students, returning campers, siblings and groups of two or more are $200 per student. One day is $75. Camp runs June 6-10, June 13-17, June 20-24, June 27-July 1, July 11-15, July 18-22, July 25-29 and Aug. 1-5. For more info., call (561) 445-3946 or visit www.staffordshireequestriancenter.com.
• Desert Rose Ranch, located on 20 acres in the gated community of Ranch Colony, Jupiter, offers an equestrian opportunity for all levels of riders, beginners through advanced. There are daily riding lessons, and activities also include trail rides, arts and crafts, volleyball, fishing, games, field trips and horse shows. Horses are limited and based on availability, so early reservations are recommended. For more info., call Pam LiVecchi at (561) 779-5206 or visit www.desertroseranch-fl.com.
• Casperey Stables, on D Road in Loxahatchee Groves, believes horsemanship helps kids develop essential life management skills. The program features activities geared for children ages 7 to 14, of all skill levels. The main focus is horses, with daily lessons, trail rides, horse care and horseback games, and demonstrations by blacksmiths and equine dentists. At the end of each session, parents are invited to join their kids for a horse show and cookout. Days run 9 a.m. to 3 p.m. during each two-week session: June 6-10, June 13-17, June 20-24, June 27-July 1, July 5-8, July 11-16, July 18-22, July 25-29, Aug. 1-5 and Aug. 8-12. Each session costs $450 (cash or check) or $468 (credit card). Two or more sessions are discounted, and the daily fee is $60. Extended care is available. A 5 percent discount is available for full payment by April 30, and there's an additional 5 percent discount for siblings. For more info., call (561) 792-4990, or visit www.caspereystables.com.
• Golden Gait Stables, at Sunshine Meadows in Delray Beach, offers daily riding, horse games, arts and crafts, and other events for kids of all ages. The program is filled with hands-on activities designed to teach children all about horses. All campers ride one hour per day and learn basic control of the horse in the saddle of their choice. They also learn horse management skills such as bandaging, clipping, basic first aid and stable management, with each assigned their own horse for the week. Guest visits include veterinarians, dentists and blacksmiths. Camp runs Monday through Friday from 9 a.m. to 1 p.m., June 6 through Aug. 12. Children can attend for one day or the whole summer. A three-week session is $750, one week is $275 and each day is $65. For more info., call (561) 376-5352 or visit www.goldengaitridingstables.com.
• The Freedom Riders Academy in Little Ranches is a rescue barn, home to six horses. It focuses on teaching children life lessons and values through the care and love of horses. Camp days include riding lessons, tacking and grooming tutorials, and all aspects of horse care and ownership. Freedom Riders accepts all levels of students, beginner to advanced, ages 5 to 15. There are two or three openings Monday through Thursday, and up to seven on solo Fridays. Days run 8:30 to 11:30 a.m. Camp runs every week, starting June 6, through Aug. 5. There is a counselor for every three campers. For more info., call (561) 201-7884 or visit www.freedomridersacademy.org.
• If your child is more into a whole farm experience, check out the Good Earth Farm in Loxahatchee Groves. Owner Nancy Fried-Tobin has 48 years of camp experience with horses and children. Campers enjoy daily riding lessons in hunt seat, dressage, western trail, vaulting and driving, all on the 20-acre property. In addition to the horses and ponies, there are parrots, zebra, donkeys, minis, dwarf minis, waterfowl, chickens, guinea pigs, a pot-belly pig, a cow and sheep. After the horse part of the day, campers cool off, have lunch and start the art project of the day. Children learn to be independent and take care of all aspects of horsemanship, from grooming to riding to cleaning tack. Children are supervised at all times, and there are never more than 10 campers, ages 7 to 12. Each day runs 9 a.m. to 3 p.m. in three two-week sessions. Each two-week session costs $590. A 5 percent sibling discount is applied if paid in full by May 1. Aftercare is available. For more info., call (561) 792-2666 or visit www.goodearthfarm.info.