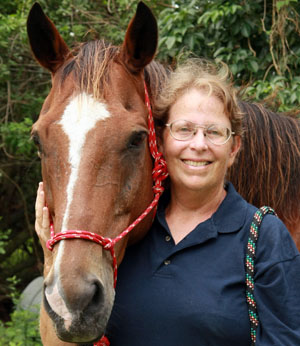 TALES FROM THE TRAILS
The last Winter Equestrian Festival Lunch & Learn session for 2016 was held Thursday, March 31. After the lunch and lecture, the grand prize was awarded. Amanda Bostwick picked the winning ticket, and Roger Koerner, who happened to be attending, was thrilled to take possession of the gorgeous tack trunk, donated by Clever Jumps and Clever Trunks. "My daughter, Julie Anne, will get a lot of use out of it," he said.
"We love dealing with Clever Jumps," Amanda said. "They also donated last year's grand prize trunk, and next year will donate a vertical rolling trunk. We have a good relationship with them. They're local, efficient and friendly, and very generous."
Owner Staci Rosner-McKesson also sponsored the Tropical Show Series for the Palm Beach Riding Academy in 2014 and 2015. She runs Clever Jumps with her husband, Paul.
A native of Wellington, Staci grew up riding. She and her family moved to The Acreage 12 years ago. Their business is named after one of their horses.
"Rather Clever, who'll be 12 this year, was a race horse who won $136,000," Staci recalled. "I saw him at the barn, rode him the next day, and had to have him… We've grown together. Now he's got a second career as a jumper and is one of the favorites with the kids at the barn, including my 8-year-old daughter."
He's a real renaissance horse — a race horse, a jumper, a hunter and even did barrel races. "This winter, a girl showed him at WEF in equitation, and he completed his first dressage test at AGDF this year," Staci said. "We are so proud of him, and when Paul started the jump business four years ago, I suggested naming it after Clever. It totally fit."
They make custom jumps and wooden tack trunks at their farm. It all started when Paul switched from riding western to jumping and realized that people needed quality jumps at affordable prices, whether they were showing at the top venues or just practicing in their back yards.
"Our products exemplify quality and longevity," Staci said. "We're horse people, too. We use our products, and we build them with the details that we and other equestrians want. For example, our trunks include grooming boxes, seats, name plates and soft-close hinges at no extra price. They come in three different sizes: small for traveling to shows; medium, to either stay home or travel; and large, for the barn."
They are also designing new vertical tack trunks on wheels, which will include saddle, bridle and wardrobe racks, and will be available starting this summer.
"When it comes to jumps, we offer everything from basic schooling standards to fancy custom-designed jumps, some of which are in the Grand Prix ring at WEF," Staci said. "There are painted or stained rails, roll tops, coops, brush boxes, wine barrels, flower boxes, walls, trellises and cut-out silhouettes."
Some of their best sellers are wagon wheels and barn door designs.
"People also enjoy adding their barn logos and names," she added. "Whether you're practicing for a Grand Prix and need a brick wall, a barn owner who wants to please the clients, or just want some fun jumps for practice, we have what you're looking for and can customize barn colors and themes. If you can jump it, we can build it. No job is too big or too small."
They also rent jumps seasonally, and have made jumps for some impressive customers. This year, you might have seen their work for Illustrated Properties in the International Arena. They also offer kid jumps for horse-obsessed youngsters to practice jumping over by themselves — cute mini versions of full-sized courses. Their new offerings are listed on both their web site and Facebook page.
This year, Staci also started a new venture, Equestrian Team Apparel.
"At my old barn, I was often in charge of making sure that all the kids wore coordinated barn outfits," she explained. "Other barns asked me to help them, and it evolved into ETA."
ETA specializes in sun shirts with the "cool" element, UV protection and netting on the arms. They have schooling and show shirts, both ready-to-buy and customized, as well as totes, hats and C-4 belts that come in more than 400 color combinations and can also be customized.
"We can fit anyone," Staci said. "We offer embroidery, direct-to-garment and heat transfer, which can have glitter and metallics. Our best sellers are monograms and barn names and logos. Even though we're in our infancy, we've already been well received at WEF and AGDF."
Lindsay Martin, who owns the College Preparatory Invitational, has known Staci for many years.
"Clever Jumps is phenomenal; a great company to work with," Lindsay said. "Staci is very outgoing and supportive. She supplied the rented jumps for our show and was a major sponsor."
Sarah Hepfner also has high praise for Staci. "She's a peach, I love her," Sarah said. "I love her items, especially the C-4 belts, which make great gifts. I have one for every day of the week. I also love the monogrammed shirts. Staci's the friendliest person at the show."
For more information, visit www.cleverjumps.com or www.equestrianteamapparel.com.