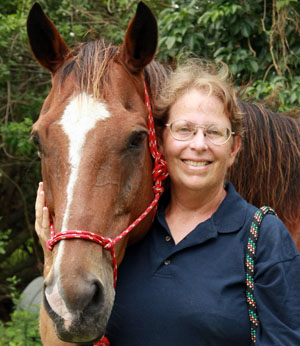 TALES FROM THE TRAILS
A visit to Pure Thoughts Horse Rescue in Loxahatchee Groves is, paradoxically, both relaxing and exciting. The 25-acre spread is home to 51 horses, three minis, a pony, some cows, goats, llamas, chickens and a pig. Walking about and visiting with the animals is peaceful. The excitement comes in realizing most of the horses are available for adoption, and they're very nice horses, indeed.
Pure Thoughts' horses are suitable for hunters, jumpers, dressage, polo or pleasure riding, and many have show experience.
In addition to the adult horses, there are some 2- and 3-year-olds, along with this year's group of nurse mare foals, three of whom have already arrived and are spoken for. Although cute as can be, these foals are the result of a cruel practice.
A nurse mare foal is a foal that was born so that its mother might come into milk. The milk that its mother is producing is used to nourish a foal from a more expensive mare, and the original foal becomes an orphan.
"We're taking in 15 nurse mare foals this year," Pure Thoughts owner Brad Gaver said. "They're all five to seven weeks old, and most of them are part Drafthorse and part Thoroughbred. Right now they're being fed milk replacer four times a day, have grain four times a day, and can also drink water and eat hay, which is really important. We always have a lot of interest in the nurse mare foals. We still have people from last year who wanted one."
There's no denying the cuteness factor, but taking a youngster and raising it means a serious commitment. Brad carefully screens applicants to make sure they already have a solid horse background, are willing to get up and do a feeding during the night, and either are in touch with a boarding facility or already have another horse at home.
But, things don't always work out as planned, and right now there are four youngsters from previous years that have come back and are available.
Arizona is a sweet chestnut mare who goes quietly under saddle and would make a good pleasure or polo prospect. Chiquota is a large-pony-sized bay gelding with a horse-sized head who hasn't been backed yet. Little Z is a seal bay mare who's not so little anymore. She has some time under saddle and is easy to work around. Amarillo is a creamello mare, very sweet and responsive. She's an alpha mare and hates the llamas, but she listens well to people.
Another youngster on the property is Little Indy Mine, a lovely bay who'll be a year old this May. And talk about a bloodline! His dam, who lives in the stall next to his, is Mine Sweep, who came in without anyone realizing she was pregnant. The sire is AP Indy, champion Thoroughbred racehorse best known for his wins in the Belmont Stakes and Breeders' Cup Classic in 1992.
Strolling past stall after stall is tempting. Happily, I neither need nor want another horse. But volunteering — I might consider that. Brad can always use extra help, whether it's barn chores, horse care or riding.
Karen Odell of Boynton Beach has volunteered for the past three years.
"I used to ride when I was younger, but I don't have any horses," Karen said. "That's why I'm here. I like being around them. I love giving them baths. It's peaceful, and cleaning stalls is good exercise. It keeps you in shape. My favorite is Amarillo. Being around such big animals is a little scary at first. I had some problems, some fear, but then I realized I could do this. I've done things I never thought I could."
Katelyn, from Wellington, also spends a great deal of time at Pure Thoughts. She's part of a new program, started two years ago, called Intensive Outpatient Therapy (IOT). The clients, all dealing with trauma and substance abuse issues, come out three days a week for three-hour sessions plus another one-on-one, and work with certified therapists. There's no riding involved.
"I've been coming here for about a year," she said. "I work with the horses and help Brad. It helps me work through my traumas. I was an EMT and had some terrible calls which left me with PTSD. Being out here lessens the anxiety and gives me confidence. When I talk to the horses, they listen without being judgmental."
Her favorite is Chino, a Quarter Horse gelding.
"He came in recently from a kill pen in Ohio," Katelyn said. "We have a really close relationship. He always listens to me and never acts out. I also like Forest, another gelding. He's very sensitive and helps me control my breathing and heartbeat. He lets me get in touch with myself. Coming here is an amazing opportunity. I love working with the different horses and learning about them. I'm even starting to learn to ride. It's a little scary, but fun."
Lisa Cohen, a licensed mental health counselor, is one of the therapists in the program. "I'm out here three days a week," she said. "I work with the clients and help Brad with the groups. I have my own horse at home, so this is a great fit for me. What's not to like? This program helps empower the clients and gives them real-world skills. Horses are an important therapeutic tool to help with recovery and growth."
Brad is proud of the new program.
"We've rescued more than 2,000 horses so far," Brad said. "The IOT program is another way for us to help the greater community, plus it helps pay the bills. We have some really nice horses available right now and at reasonable rates. We could also use more volunteers, whether you know anything about horses or just want to learn. But check your ego at the door. We don't have any drama at this barn."
For more information, call Brad Gaver at (561) 951-2108, or visit www.pthr.org or www.facebook.com/purethoughtshorserescue.