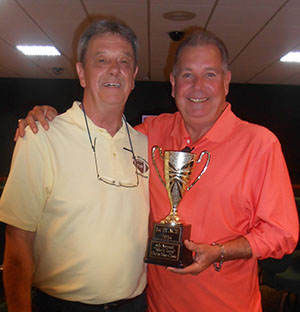 More than 85 players participated in the sixth annual Tyler's Team Charity Poker Classic held recently at the Palm Beach Kennel Club.
Scott Cadmus won the Tyler's Cup trophy and an $580 buy-in to the World Series of Poker in August.
"This is a charity tournament. We want people to come in, eat, relax and have fun while playing," organizer Kevin McLellan said.
The event was presented by the Palm Beach Kennel Club and sponsored and supported by the Shirt Guru, Boston's On the Beach, Publix, Enigma Pro Wrestling, MD Now, Ante Up Poker Magazine, Chili's, Poker Action Line, Stepping Out Florida, TRA Insurance, Outback Steakhouse, ESPN West Palm Beach, Divine Pixel, the UPS Store, Palm Beach Improv, Rapids Waterpark, Copper Blues, Lion Country Safari, Palm Beach International Raceway, Amenity Pro, Delray's Finest Signs & Graphics, and WalMart.
ABOVE: Kevin McLellan with 2016 poker classic winner Scott Cadmus.