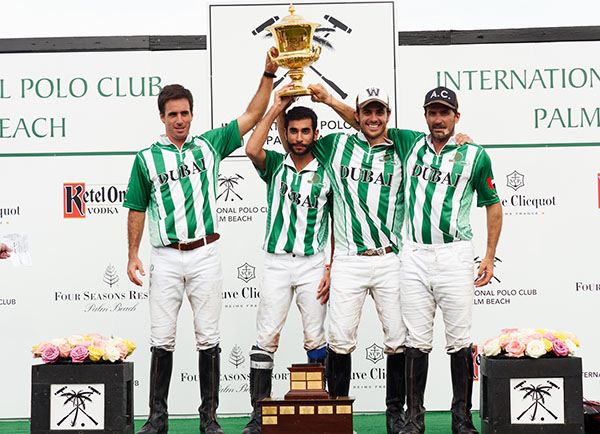 In the final three minutes of the game, Dubai scored a goal to cinch a white-knuckle victory over Audi at last Sunday's USPA Gold Cup final at the International Polo Club Palm Beach in Wellington.
The tension was high at the halftime divot stomp, with the score tied at 7-7. Both teams aggressively sought to make every goal with intense stickwork and brilliant scoring. After the halftime deadlock, Adolfo Cambiaso scored back-to-back goals, giving Dubai a tenuous lead. Audi took control of the fifth chukker, shutting down Dubai's attack and going into the final chukker with a score of 10-10.
Cambiaso converted a 30-yard penalty shot in the sixth chukker for an 11-10 Dubai lead. Audi's Freddie Manix answered the challenge with a goal to tie the game at 11-11.
Facundo Sola scored the final goal of the game with just under three minutes left on the clock. Dubai was able to hold on until the final horn sounded to claim the Gold Cup.
Sola was named MVP, and Flo, the horse used by Cambiaso, was named Best Playing Pony.
Before the match, the Easter bunny kept with tradition by decorating the expansive Engel & Volkers Field with more than 8,000, brightly colored Easter eggs for children to collect. Hundreds of youngsters in their fashionable finest raced across the field filling baskets, while their parents cheered them on. IPC mascot Chukker joined the festivities, dancing with the Easter bunny and posing for photos.
Hats are the traditional fashion accessory for Easter, and at Sunday polo, bonnets are the ultimate style statement of glamorous elegance.
On Easter Sunday, discerning fashionistas sported beautiful and contemporary designs that included bold and creative fascinators, wide-brimmed hats embellished with feathers and silk flowers, chic berets and woven straw numbers with broad ribbon bands that rival the royals. The exclusive Veuve Clicquot Lounge, Coco Polo Lounge and Lilly Pulitzer annual Easter Bonnet contest was not held to rules or limitations. Women of impeccable taste did not disappoint, wearing head-turning numbers that delighted the judges and spectators.
Meanwhile, stadium flags were flown at half-staff in honor of polo patriarch Bob Daniels, 74, who died early Saturday morning from injuries sustained during a game last week. Before Sunday's match, his five sons, including his three youngest, Justin, Benji and Landon, all top junior polo players taught by their father, rode out to midfield with a riderless horse led by his top pro and coach, Tomas Goti. The sellout crowd held a moment of silence for one of the sport's most beloved players.
The U.S. Open Polo Championship continues the 26-goal matches and will be played over four consecutive Sundays through April 24. Be sure to get in on the polo action before the season ends.
The International Polo Club Palm Beach is located at 3667 120th Avenue South in Wellington. Polo matches are open to the public, with a wide range of hospitality and guest seating. Tickets start at $30. For ticketing and sponsorship information, call (561) 204-5687 or visit www.internationalpoloclub.com.
ABOVE: Dubai's Rashid Albwardy, Alejo Taranco, Facundo Sola and Adolfo Cambiaso claim the USPA Gold Cup. PHOTOGRAPHY BY LILA PHOTO