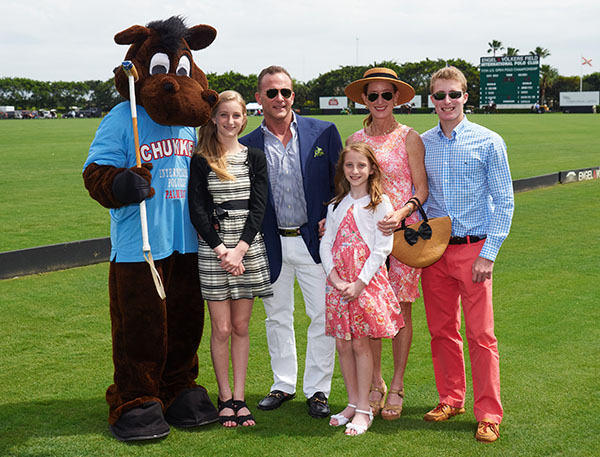 White Birch rolled over defending champion Valiente, signaling the end of the first round of play in the U.S. Open Polo Championship at the International Polo Club Palm Beach on Sunday, April 3.
White Birch took control of the game early and led 6-4 at halftime, denying Valiente in part due to Hilario Ulloa's powerful scoring, which totaled nine goals and earned him the Most Valuable Player title. Best Playing Pony honors went to Melody, played by Mariano Aguerre and owned by Los Machitos.
Valiente's roster in this year's U.S. Open was a factor in their loss. Two of their 2015 pillars, Adolfo Cambiaso and Alejo Taranco, are playing for Dubai in that team's first year of high-goal polo competition in Wellington.
On the sidelines, style icons jockeyed with equestrian aficionados. Ladies and gents sported fashionable ensembles and trendsetting accessories that included stylish sunnies, couture brimmed hats, head-turning kicks and matching clutches.
U.S. Open action continues with the featured matches being played on April 10 and April 17, and the season-ending final match on Sunday, April 24.
The U.S. Open Polo Championship is the most prestigious polo tournament played in North America, attracting the top players and teams in the world. Tickets should be purchased early for stadium seating or to enjoy the hospitality venues, including field-side seating at the Coco Polo Lounge, the Veuve Clicquot Lounge and the Lilly Pulitzer Patio. Be sure to get in on the polo action before the season ends.
The International Polo Club Palm Beach is located at 3667 120th Avenue South in Wellington. Polo matches are open to the public, with a wide range of hospitality and guest seating. Tickets start at $30. For ticketing information, call (561) 204-5687 or visit www.internationalpoloclub.com.
ABOVE: Emily Elizabeth, Robert, Ashley, Michelle and Preston Kirschner wtih Chukker. PHOTOGRAPHY BY LILA PHOTO