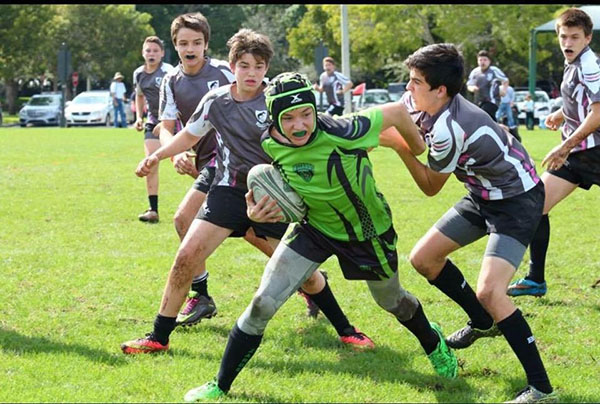 By Jason Stromberg
Nothing stops David Rimes from playing on the Wizards Rugby Club. Not even Type I diabetes.
"I'm not going to let a disease define who I am. I'm going to still live my life and take care of myself, so that I can play rugby and football," said Rimes, who was diagnosed with diabetes in January 2014. "I started playing rugby after I was diagnosed. I started playing football before I was diagnosed, at 7 years old."
Rimes is setting an incredible example for student-athletes who are participating in the Wizards Rugby Club program, which is in its second year of existence as a youth travel organization in South Florida.
"When I'm having a bad day, my teammates say, 'Don't worry about it, just move on,'" said Rimes, a U14 Wizard. "I can't even tell you how much it bothers me when I can't give my team 110 percent on the field, because I always want to give 110 percent."
Diabetes presents a challenge, but also a motivation.
"It does motivate me. During games, sometimes it's hard for me to focus because it's hard for me to play rugby and football when my blood sugar isn't under control," said Rimes, a Wellington Landings Middle School eighth-grader. "I'm off, and not my strong self when this happens. I check my sugar during halftime, before and after the game. I rarely come out of a game."
Wizards Rugby Club President Alan Lawson is hoping that the local community will take the opportunity to watch Rimes and his U14 club, the Junior Juice (JJs) League for players in sixth, seventh and eighth grade, play Okapi in the state semifinals this Saturday at the Palm Beach International Equestrian Center polo fields on South Shore Blvd. The state championship is set for later on that day.
The Wizards' JJs are 7-0, the top seed and the defending state champs heading into this weekend's game.
"The expectation is to always win the state championship. That's the way we are set up. To go out there, have fun and perform at our best," Lawson said. "All that matters, win, lose or draw, is that you give 110 percent. More often than not, good things happen when you do that."
Joining the JJs in the state semifinals are the second-seeded U10s (players in second, third and fourth grade), the second-seeded U12s (players in fourth and fifth grade) and the top-seeded Junior Varsity (high school freshmen and sophomores).
Jadien Durant, a freshman at Wellington High School, and his JV teammates Alex Lawson and Michael Palmateer, defeated Key Biscayne earlier in the regular season.
The U10s will take on Key Biscayne in the state semis, while the U12s will face Boca Raton. If each team wins, it plays in the state championship later on in the day Saturday. If the JJs win their state semis game Saturday, the team will also move on to the championship.
The JV team plays in the state championship on April 30, if it wins in the state semis.
"I expect a tough game," said Durant, who plays outside center. "They don't know what's coming from us. We didn't play that well the last time we faced them, even though we won. This time, they are going to see a whole different team."
Lawson, son of the club president, agreed. "We could go up against any team. If we play our best, it doesn't matter how big or fast you are. We know that we will prevail," said the Wellington High School sophomore, who plays scrum half. "I put everybody where they need to be, controlling the overall direction of play. If I get overwhelmed, I just look at my team, and I know we all will do what's right."
Palmateer, a second-row player and freshman at Wellington High School, believes the expectations are greater for this group. "Last year, people thought we were a joke," he said. "We expect a blowout this next game in our favor."
Doug Price, a sophomore at Palm Beach Central High School, plays the 8 spot on the squad. "We are definitely confident," he said. "We know we are the best team. We've just got to play like it."
Also representing the defending state championship U14 Wizards team are Joshua Schwartz and Isaac Rivera, two eighth-graders at Wellington Landings Middle School. Schwartz plays inside center, while Rivera plays scrum half.
"We've got to stay on top of our game," Schwartz said. "We hope to be undefeated again this season. If we stick together, we can make it happen."
Rivera agreed. "We are at our best when we are passing and rucking, which is when you get tackled and come out of the scrum with the ball," he said. "We have a big advantage when it comes to that."
The Wizards Rugby Club is for all student-athletes. Currently, the club includes three female players: Elianna Habib, a fifth-grader at Panther Run Elementary School, playing the wing position for the U10 team; Alyssa Archer, a sixth-grader at Wellington Landings Middle School, who plays pack on the U12 team; and Kendall Erkman, a fourth-grader at Golden Grove Elementary School, who also plays pack for the U10 team.
The Wizards Rugby Club is part of the Florida Youth Rugby Union, which is governed by USA Rugby. The Wizards practice from 6 to 8 p.m. on Tuesdays and Thursdays. The season starts in January and runs through April. Visit www.wizardsrugby.com to learn more.
ABOVE: Nothing stops David Rimes from playing for the U14 Wizards team.