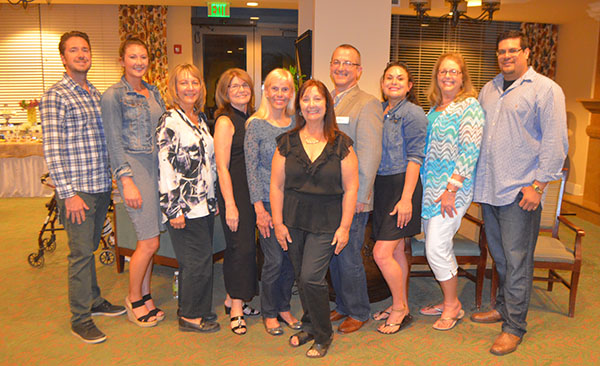 Art students and their teachers were honored Thursday, April 7 at a reception for the 2016 Young Art Masters Auction at Nu Vista Living in Wellington, where the auction pieces are on display.
Guests enjoyed an array of desserts while viewing the gallery of paintings, photographs, digital art and ceramic pieces. They had the opportunity to talk to the student artists about their technique, inspiration, passion and future goals.
Underwritten by the Jacobs Family Foundation, the Young Art Masters Auction shines a spotlight on the work of high school artists while providing a fundraising opportunity for their programs through sponsorships and an online auction.
This year's sponsors are Eyes of Wellington, Marble Doctors, Shockley Marketing, Palm Beach Medical, RU Practical Business Solutions, RU Charitable, Attention Span, the Florida Eye Institute, CEO Financial Services, Jerry's Artarama and the Connection Public Relations.
Students from Wellington, Royal Palm Beach, Palm Beach Central and John I. Leonard high schools in advanced art classes were given supplies to create paintings, digital art pieces, photos and ceramics pieces for Young Art Masters.
Each piece of art is on display through April at Nu Vista Living. All items are up for bid online at www.youngartmasterswellington.org.
The online auction has been extended through April 30.
ABOVE: Art teachers join Dean Tendrich of Nu Vista Living. (L-R) Christopher Burke, Hilary Brinks, Cynthia Oakes, Bobbie Brubaker, Linda Morgan, Janet Stanton, Dean Tendrich, Alexis Garland, Jennie Barnett and Isidro Pensky.