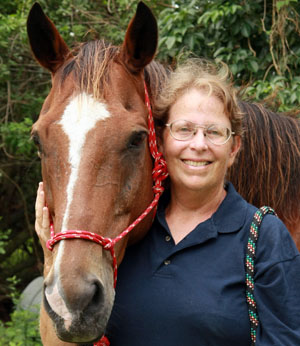 TALES FROM THE TRAILS
Back on March 20, the Acreage Horseman's Association (AHA) canceled its hunter/jumper show, set to be held at the Nicole Hornstein Equestrian Park in The Acreage, because of bad footing.
"The main arena was really sloppy, soup up to my ankles," AHA Chief Executive Director Linda Rainbolt said. "There was no way to set up jumps or get a grader in or out, not to mention how difficult it would be for the horses. That arena was resurfaced last summer with clay. When properly maintained, it gives excellent traction and stays springy. But if the edges are left high, it floods. I hated rescheduling, but there was no choice."
In comparison, Linda Wirtz, the facility manager at the Jim Brandon Equestrian Center, believes that traditional sand footing, like that at Jim Brandon, is the best material for rings. "It is an industry standard and provides excellent footing for a wide range of events," she explained. "The rings are maintained by the application of water, drags and grading. Maintenance is an ongoing procedure done before, during and after each event."
Wirtz didn't recall them ever canceling a show for bad footing.
Rainbolt said that when dragged correctly, kept moist and "fluffed up," the footing has nice bounciness and firmness. She hopes that the Indian Trail Improvement District, which owns and maintains the park, will meet with members of the AHA to address the grading issue. "The ring should be dragged three times a week by a knowledgeable person, not just some guy on a tractor," Rainbolt said.
Another problem is riders who practice running barrels, doing the patterns over and over, leaving deep ruts in the ring. Rainbolt pointed out that signs posted by the in-gates prohibit this activity. "It's pretty frustrating," she said. "Even when we take the barrels out, they roll them back, or dump out trash barrels and use them."
ITID Manager Jim Shallman agreed that arena maintenance could be improved. "We drag it regularly," he said. "We have a small budget of $1 million for nine Acreage parks. We can't please everyone. I know many people moved here to keep their horses at home, but this isn't Wellington. We'll continue trying to drag the main arena three times a week, and definitely just before shows."
Then, the AHA's April 17 show was canceled the day of the show. The issue: the main arena. I pulled in, intending to show my horses, only to find everyone leaving. The ring had large puddles, and there were deep spots, one of which had caused a horse to stumble. The other rings, without the orange clay, were unaffected.
"We're bummed out they canceled, but they made the right choice. Safety first," said Wendy Marks, who had driven in from Palm City.
"It was very wet and sloshy," Rainbolt said. "It's so frustrating that it won't drain properly. It was perfect the night before. Canceling shows frustrates everyone. ITID should get on the ball and fix this."
Colleen Brue, an AHA volunteer, set up the jumps the night before. "It was perfect; then it rained," she said. "The problem is the clay… It can get slick and deep. Other times, it's phenomenal. It's hit-and-miss. Many local riders and barns would love to attend our shows, but they're wary of the footing and won't risk it. This is a great park, but maintaining this arena is an ongoing battle with ITID."
Many within the AHA are disappointed.
"I've kinda given up on ITID," AHA Vice President John Rivera said. "They never consult with us or any horse people, far as I know."
Things seemed to be at a stalemate, so I attended the ITID meeting on April 20, and stood up and spoke. The board members said this was the first complaint they'd ever had, and all professed to love the park.
"Everyone has differences of opinion about footing," ITID Supervisor Michelle Damone said. "No one from AHA has reached out to me regarding the footing. That park is a jewel."
The following Sunday, April 24, the AHA show went off without a hitch. The footing was perfect. On Thursday, April 28, I met with ITID President Carol Jacobs, along with ITID Parks & Recreation Director Tim Wojnar, ITID specialist and AHA Secretary Heidi Garcia, and ITID Finance Director Don Rinzel.
"Our main focus is drainage and roads," Rinzel said. "We have major projects coming up, and limited funds. We juggle what best serves all the residents."
Jacobs pointed out that the park wasn't built with shows in mind, which now run three or four weekends a month, and ITID never changed the budget. The taxpayer-supported district had to fairly allocate resources to all nine parks.
"The park was never built for what's being done now," agreed Garcia, who shows barrels. "The barrel shows bring in the most riders. The added jackpot classes have 40 to 80 entries. Parking's tough, and the ring takes a beating."
Wojnar added that ITID Supervisor Jennifer Hager, who's an expert barrel racer, chose the clay.
"It was left over from a baseball field, so it didn't cost anything. I think a wise idea is to spend some money, hire experts in each discipline — hunters, barrels and pleasure — and get their opinions on the footing," he said. "We should discuss this with the AHA and invite them to a workshop. I'll shoot Linda [Rainbolt] an e-mail today. The bottom line is that the ring needs to be safe for everyone."
Later that afternoon, Rainbolt called to thank me. "I'm excited that they're talking with us," she said. "Maybe now we can resolve this issue."