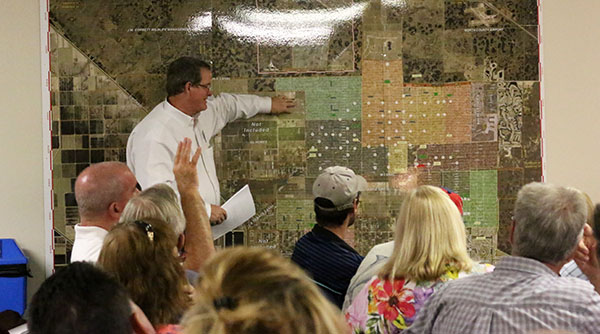 The Acreage Landowners' Association hosted a presentation by Palm Beach County Engineer George Webb on Tuesday, May 10. Webb's discussion focused on several large communities about to be built in areas bordering The Acreage and the effects that those developments will have on residents and the existing road system.
The projects include Minto West/Westlake on the former Callery-Judge Grove property, GL Homes' Indian Trail Groves project, the adjacent Iota Carol project, and Avenir, the development on the Vavrus Ranch land recently approved by Palm Beach Gardens.
Westlake, a planned 3,800-acre development along Seminole Pratt Whitney Road, went through negotiations regarding its approvals in 2014. Those negotiations, however, could be set aside if Westlake is allowed to incorporate.
"These conditions are very lengthy and very detailed. They will not necessarily carry forward if they incorporate," Webb said. "If they incorporate, the developer can go to the new elected officials and say, 'You know, I got this great plan, or great idea. First off, I want to trash everything I had and I want to start over with you guys.'"
Webb used the term "if" because the incorporation process in Tallahassee is long, he explained. "Things change, so we'll see," he said. "Yes, they have initiated the incorporation process."
The current proposal for Westlake includes 3,446 single-family residential units, 600 multifamily townhomes, 300 detached single family 55-and-older dwellings and 200 55-and-older attached dwellings, a 150-room hotel, a community college for 3,000 students, 450,000 square feet of general office space, 600,000 square feet of research and development space, 450,000 square feet of light industrial space, 500,000 square feet of retail space, 192 acres of parks and 150,000 square feet of private civic space.
Avenir, Webb said, has 3,000 single-family homes, 250 multifamily dwelling units, a hotel, 2.1 million square feet of nonresidential general office space, 400,000 square feet of commercial space, a school for up to 600 students, 55 acres of parks, 60 acres of civic space, a horse farm with 80 stalls and an additional nine golf course holes tied into Palm Beach Gardens' existing golf course.
GL Homes' proposal is for about 3,600 single-family dwelling units, 265 multifamily dwelling units, 50,000 square feet of general office space, 300,000 square feet of general commercial space, schools to accommodate up to 1,800 students, church sites, 60 acres of parks and a fire station site proposed for a location that is close to Hamlin Blvd. and 180th Avenue.
Several of these developments circumvented Palm Beach County and went to Tallahassee to get more favorable density requests. Decisions made in Tallahassee dictate how local governments need to work. "We're faced with that hanging over our heads on a regular basis," Webb said.
The GL Homes project is currently in the approval process. The developer, Webb said, put forth an effort to help The Acreage, committing to provide a square mile of land for the Indian Trail Improvement District to use for drainage, and is also adding $5 million to the amount of money that is required for traffic impacts.
While Westlake and Avenir have their approvals, and GL Homes is in the process, Iota is not that far along. It does not have a final traffic study or application in yet, Webb said. "I can talk in good detail about the other three, but Iota is still hanging out there as far as where that is," he said of the two-square-mile parcel.
All four of the developments will affect the traffic in the area. Westlake, Webb said, is projected to have almost 80,000 trips generated on any given day. Avenir will bring 52,000 trips a day. GL Homes will bring 47,000 additional trips, and Iota approximately 15,000 additional trips. "That is practically doubling what you guys are seeing today," Webb said.
In addition to dealing with proportionate-share compensation for road repairs, traffic calming, emergency services, additional roads and road alignment are also issues that will be coming up in the future, Webb explained.
Next month, the ALA will host an important meeting. On Tuesday, June 14 at 7 p.m., Lynn Tipton with the Florida League of Cities will be speaking on the incorporation process and its possible advantage and disadvantages. The meeting will be held at the ITID office, located at 13476 61st Street North.
The ALA is also planning its Spooktacular Rocktoberfest, set for Acreage Community Park on Saturday, Oct. 22. There will be a costume contest with cash prizes for adults and children, a car show, food trucks and more. Bands will begin at 5 p.m.
For more information, visit www.acreagelandowners.com.
ABOVE: County Engineer George Webb explains how the new developments will impact area roads.