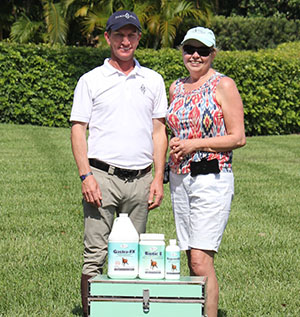 Omega Alpha Pharmaceuticals, an all-natural equine health supplement company, once again held its Omega Alpha Best Barn Manager of the Season contests at both the 2016 Winter Equestrian Festival and the 2016 Adequan Global Dressage Festival.
Craig Pollard, barn manager of Double H Farm, best embodied characteristics of an outstanding barn manager out of all of the Winter Equestrian Festival nominees, naming him this year's Winter Equestrian Festival Omega Alpha Best Barn Manager of the Season.
Double H Farm, which is based in Wellington and Ridgefield, Conn., is world renowned for its high-level competition horses and riders. Double H founders the Harrison family have been avid supporters of competitive equestrian sport for more than 20 years. Today, Double H Farm is operated by the husband-and-wife team of Quentin Judge and Cayce Harrison. It is home to at least 20 horses at a time, and requires an experienced professional to manage the day-to-day operations, travel arrangements and individual care of each horse.
Pollard is a veteran show jumper. His résumé includes having worked for top show jumping professionals in both Europe and America. "I have only been working at Double H since December, but I have known Cayce and Quentin for a long time," Pollard said. "It's hard not to love coming to work at Double H every day because the farm and horses are so beautiful."
Having a complete knowledge of everything that goes on in the barn really does matter, he explained. "I think in order to be an effective barn manager you have to know how to do every task in a barn," Pollard said. "I have done everything from cleaning stalls, to driving the truck and trailer, to making a daily showing schedule, and I still have to do some of those things every day."
Patti Hanco, director of business development for Omega Alpha, traveled to Double H's Wellington facility to present Pollard with a custom Omega Alpha bit box full of his choice of Omega Alpha's most popular products, and a dinner for two.
Omega Alpha Pharmaceuticals, recognizes barn managers as the backstage superstars of the show ring. "We want to reward barn managers for their dedication to their jobs, horses, and riders," CEO Dr. Gordon Chang explained.
ABOVE: Craig Pollard with Omega Alpha's Patti Hanco.